The Steven Spielberg directed The Adventures of Tintin has released a new poster that features members of the cast more prominently than previous incarnations.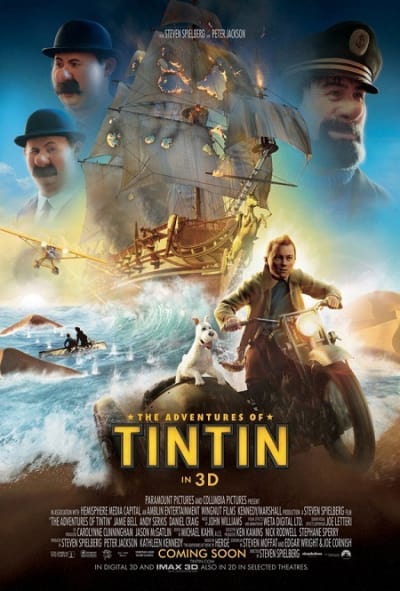 The Adventures of Tintin follows the follies of a young boy as he and his friends (including the cutest of dogs) find a map to a lost ship and set off seeking a treasure trove.
The film is the first in a series based on the books authored by Georges Remi. And with Spielberg directing and Lord of the Rings helmer Peter Jackson producing, look for the magical elements to go through the roof for the family film.
More simpler versions of the film's one-sheet have already made the rounds. This poster gives us a new look at a few more characters in the series and gives us a scope of the vastness that is the fantastical story.
The Adventures of Tintin stars Jamie Bell, Andy Serkis, Daniel Craig, Gad Elmaleh, Toby Jones, Mackenzie Crook, Nick Frost and Simon Pegg (do these two ever not star in a film together?!).
Columbia Pictures has announced that the film will open in 3D, 2D and IMAX 3D in theaters across North America on December 23 -- Merry Christmas indeed, film fans.