Lionsgate has given us another tease to feed the fire that is the anticipation for The Hunger Games. This time out, we've got a photo for you of Liam Hemsworth as Gale Hawthorne with his icy glare.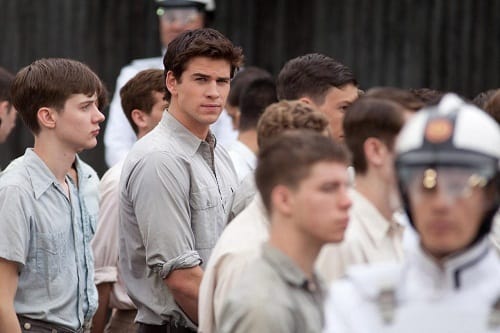 The Hunger Games arrives in theaters in March and other than the Twilight and Harry Potter series, it is hard to remember a book to film series from the last couple of years that has this much anticipation attached to it.
Suzanne Collins' bestselling novels touch each person who makes their way through the pages of her trilogy. Just last week, audiences were treated to two photos from The Hunger Games, one of Jennifer Lawrence and another of Josh Hutcherson. Now, the love triangle photo foray is complete with Lionsgate's latest photo release of Hemsworth in character on the set of what is sure to be a hit film.
Lionsgate is doing a masterful job of slowly rolling out The Hunger Games news. A picture here, a picture there, news on a release date for the sequel Catching Fire -- at this rate, we cannot wait to see what tomorrow brings in the world of The Hunger Games.