Our Idiot Brother is equally a typical dysfunctional family film and a heartwarming comedy. Not an easy combination for any flick, but because of its star -- Paul Rudd -- it actually works more than it does not.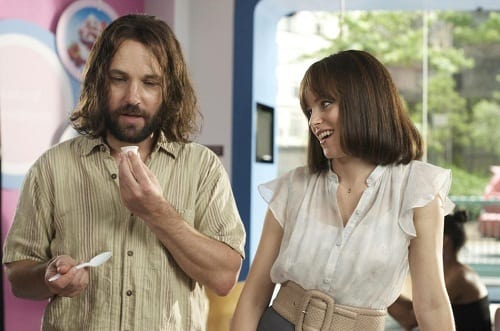 Rudd shines, as usual, as Ned, the only boy in a family full of sisters. Elizabeth Banks is Miranda, an uptight journalist willing to sell her soul for a big break. Meanwhile, Zooey Deschanel is Natalie, a stand-up comedienne with questionable talent and Emily Mortimer stars as Liz, a mother of two whose husband is less than honest.
The family dynamic is top notch and as anyone with siblings can attest, it possesses as much loving as loathing. This should be hardly a surprise given the fact that director Jesse Peretz turned to his sister Evgenia Peretz to write the script with David Schisgall.
The supporting cast too is game for the family hijinks with two Parks and Rec stars shining the brightest, Rashida Jones and Adam Scott.
Our Idiot Brother follows Ned, an organic farmer who sells his wares at the local farmer's market. When a uniformed police officer shows up saying he's had a bad week and is in need of some marijuana, the always affable Ned obliges and winds up in jail. The story picks up as Ned is released, and with nowhere else to go, he turns first to his mother -- then when he realizes he's too old to stay with his mother, he arrives on his sisters' doorstep.
Immediately Ned impacts all of their lives. He always means well and his life motto is honesty first. As you can guess, that doesn't necessarily result in the most comfortable of situations. As Ned bounces from sister to sister's couch, to them, he becomes the man of the title increasingly with each successive stop.
The problem with Our Idiot Brother is that it is a lot like cotton candy -- delicious going down and then completely forgettable once it's over. That is a strange thing to find in an independent film. Usually that feeling is reserved for big budget blockbusters. In a story about four siblings and their family dynamic, the story should pop with resonance and in Our Idiot Brother, it never quite gets there, which is disappointing. Movie Fanatic really wanted to love this film, but it needs more power to its punch and mostly swings and misses.
Our Idiot Brother does remind that no one can ever understand us quite like a sibling. If after the film, the audience is compelled to phone a sister or brother, don't be surprised. The film is warm enough to warrant that response, yet hollow enough to make you forget the movie itself a half hour after leaving the cinema.