Puncture Trailer and Poster Premiere Starring Chris Evans
by MF Staff at . Comments
Captain America star Chris Evans has a whole new bag in the film Puncture. The film's trailer and poster (courtesy of ComingSoon) have debuted giving audiences insight into the legal thriller unlike any you've ever seen.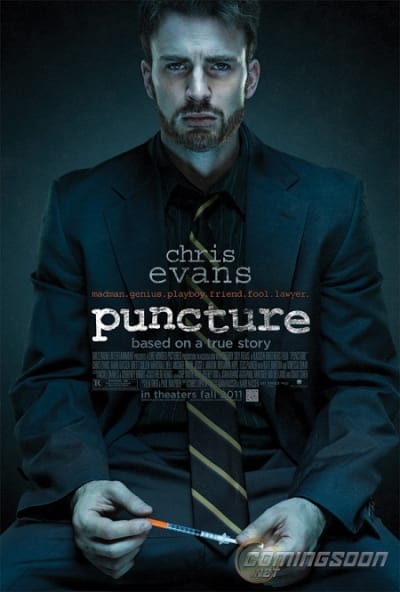 In the film based on a true story, Evans plays Mike Weiss, a Houston attorney who is also a functioning drug addict. He can live day-to-day and doesn't let his habit hurt his professional career. Mark Kassen pulls double duty as co-director and stars as Weiss' teetotaler legal partner, Paul Danziger. The pair work at a personal injury law firm.
When Vinessa Shaw's Vicky shows up at their firm, the ER nurse has a case that will change the duo's life forever. The title of the film arises from what happens to Shaw's nurse when she accidentally takes a shot from a tainted needle in the hospital where she works. Soon, highly paid pharmaceutical attorneys are the foils for Weiss and Danziger. Although they know they're over their collective heads, they know that the truth will set them and their client free.
The film doesn't have an official release date yet, but sources close to the production say it will debut September 23 to ride the wave of Captain America love for its star.