Ryan Reynolds and Jason Bateman on The Change-Up: A Must-See!
by MF Staff at . Comments
Ryan Reynolds and Jason Bateman star in The Change-Up and you don't want to miss their hilarious promo, as they tell fans why they should see the film.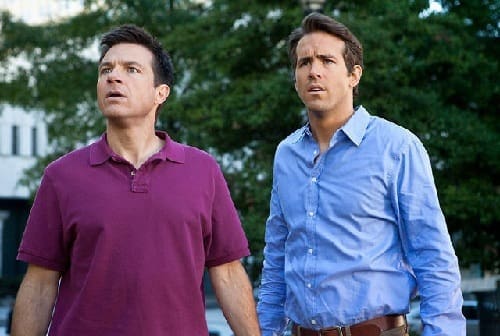 The comedic duo have been longtime friends, as they tell us in our interview going live later today, and were eager to act together as they share the same sly sense of humor. That funny bone is on full display in a new promo video released where the two, decked out in matching white suits, explain why it is important for people of all ages and nationalities to go see The Change-Up.
Reynolds even admits The Change-Up is no dumber than a movie about "talking apes" -- in a direct reference to their film's competition this weekend from Rise of the Planet of the Apes.
Bateman and Reynolds star in The Change-Up as two friends who, on one fateful evening, wish they could switch lives. Presto! It happens. Reynolds' Lothario becomes Bateman's family man and vice versa.
If the duo's comic chemistry is half as good as it is in this video promo, look for The Change-Up to score as one of the funniest films of the summer.