Alyssa Diaz has mastered her face of fear on film between starring in Shark Night 3D and The Nine Lives of Chloe King. Diaz is visiting with Movie Fanatic for an exclusive interview about the road to Shark Night 3D's debut as well as what life is like for a lifelong Los Angelino growing up under the bright lights of Hollywood to have her own moment in the spotlight.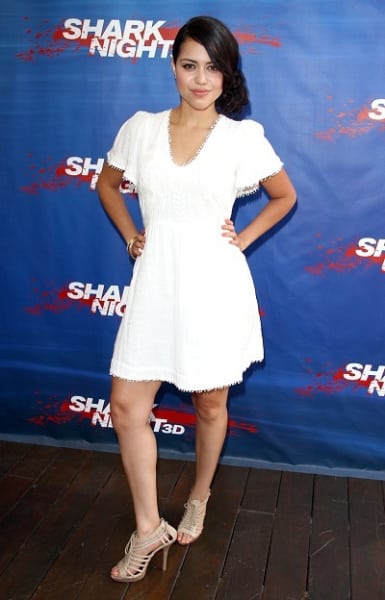 In the David R. Ellis (Snakes on a Plane) directed Shark Night 3D, Diaz is asked to create the impossible: Show utter terror towards a murderous shark that is all animatronic -- all while risking her own life in the realist sense of the phrase. She tells us how she made it work in our exclusive Shark Night 3D interview.
Movie Fanatic: What was it like filming in Shreveport, Louisiana?
Alyssa Diaz: It is a really small town and we had the most amazing cast, so we were lucky that everyone got along. We all hung out and bonded big time while we were filming. It was a fun city with a fun group of people.
Movie Fanatic: When you work so hard on a movie like this, what was it like to come back together as a group at Comic-Con in July and celebrate the work you did? No pun intended, but you guys made a big splash there. What was it like to get the fans' reactions?
Alyssa Diaz: I had kept in contact with the cast members, but the reunion was definitely at Comic-Con. It was over a year, so it's so nice seeing everybody. It's surreal and rewarding. Less than a year ago, we were out in Louisiana hard at work filming this movie. It's nice to see that it's coming to life. I didn't realize it was going to be as big as it was and it's cool seeing that. I'm really excited for it.
Movie Fanatic: Everyone was really excited about the Shark Night party [laughs].
Alyssa Diaz: Yeah, they had a mechanical shark. You can't beat that!
Movie Fanatic: Speaking of the mechanical shark, I know you are afraid of sharks. Obviously we know it's just an animatronic shark, but those teeth are real shark teeth. Did it ever get a little scary for you?
Alyssa Diaz: Absolutely, I had to get in the water to shoot one of my scenes and there was a 14 foot alligator in the water 10 feet from the boat. So, we had to drive to a different part of the lake. But knowing there's that in the water and seeing this shark fin and I'm the only one in the water, everyone else is in the boat or on dry land, that's scary and I was very vulnerable. I didn't have to do very much acting. It was a very real experience and pure terror.
Movie Fanatic: How was shooting in 3D? Did you as an actor notice anything different about the process?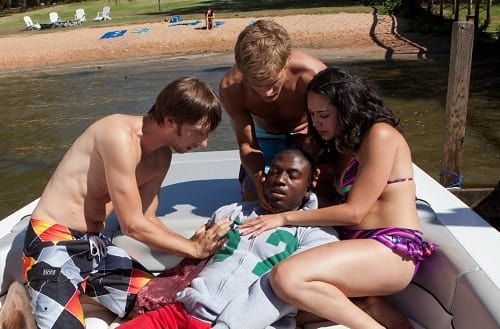 Alyssa Diaz: It was a rewarding experience shooting in 3D. The set-ups were a lot longer because they're more complicated cameras and they take longer to set up. There's more downtime which is difficult when you're shooting emotional scenes to keep it going. The cameras were also very heavy and because we're on boats and we're in the open water, sound was an issue. We had to do a lot of ADR and getting the shots in was hard, because it's all exterior shots. We were fighting the sun and time. There were a lot of factors going against us, but our director David Ellis is a genius when it comes to action and when it comes to water -- he was great to work with.
Movie Fanatic: Many times, whether it's for Chloe King or for other things you've done, the cast will get together for a table read. For a movie that is so action packed like this, did you guys have anything like that?
Alyssa Diaz: Well the casting process for me was fast. I literally went in and met with the casting director and got a call a week later telling me I got the part. I hadn't met anyone. I didn't know who was a part of the project. When I got there, I met everyone. We were lucky. Everyone was amazing and we had a great team making this movie.
Movie Fanatic: How was David as a director? You said he was a genius in terms of the acting, but as an actress how did you find his inspiration?
Alyssa Diaz: David makes you feel very comfortable as an actor because he really knows how to live life well. He knows where his priorities are, he's not going to freak out -- or he doesn't show it [laughs]. If a boat breaks down and again, we're fighting time, he was so calm. He made me feel comfortable and because of that, I was able to focus on my performance rather than on other things that would stress. He made it very safe and it was a playground.
Movie Fanatic: You mentioned the alligator moment, were there other moments when it was especially challenging for you?
Alyssa Diaz: The hardest scene for me was in the water, surprise! [Laughs] I have a scene where I'm attached to this buoy and they're pulling me in and water is in my face. It was tough for me because I have to scream. I have to keep my eyes open. I have to be emotionally there as an actress or it's not going to work. It could just look silly. Then I was to get pulled in underwater. That was really tough. Like I said, David was such a collaborator we were able to get the job done. I think the audience will have fun with this movie and enjoy it.
Movie Fanatic: What would you like audiences to take away from the Shark Night 3D experience?
Alyssa Diaz: I hope the audience falls in love with the characters. Yes, the sharks are a big part of the film, and yes it is in 3D, and yes it's a horror film. We really tried to tell a story and want the audience to feel for the characters because if you don't feel for the characters, you're not really telling a story.
Movie Fanatic: Lastly, just had the big finale for Chloe King, and the first year reaction has been off the charts. How's that been resonating with you all on the set?
Alyssa Diaz: I'm very proud of this season of The Nine Lives of Chloe King. I feel it's grown so much. Episode 10 was my favorite to shoot. I feel it really set the tone and the pacing of the show. The cast on that show all work so hard. They are young actors, but they take their work seriously. Skyler (Chloe King) is awesome to work with, and we have the crème de la crème of people. I loved playing Jasmine. I love the message of the show which is owning who you are as a person and honoring your uniqueness.