Star Wars Blu-Ray Brings New Footage in Terrific Trailer
by MF Staff at . Comments
Star Wars fans haven't been this excited in a very long time as the series' Blu-Ray debut is just around the corner. Lucasfilm and 20th Century Fox have released a trailer that includes never-before-seen footage from the franchise that is sure to induce thrills, chills and cheers.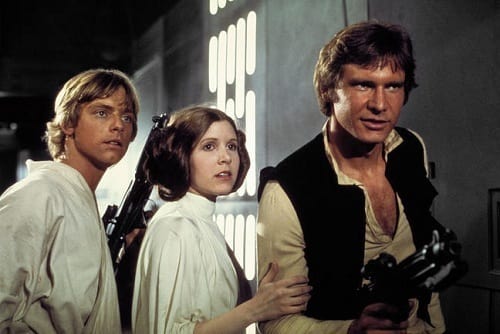 Yes, it is rare that a home video release warrants a trailer, much less one that needs to be seen by the world. Star Wars: The Complete Saga is one of those films. But that is hardly a surprise given the place Star Wars holds in the pop culture landscape.
The package arrives for fans with over 40 hours of additional features that will surely keep Star Wars fanatics anchored at home for the foreseeable future after it is released. Star Wars: The Complete Saga arrives on Blu-Ray in the U.K. on September 12 and in the U.S. on September 16.
Lucasfilm has also done the "right" thing by allowing consumers to purchase the first three Star Wars films, Episodes Four through Six -- starring Mark Hamill, Carrie Fisher and Harrison Ford -- by themselves without having to delve into the less than satisfactory Episodes One through Three. We, for one, cannot wait to witness the glory of Star Wars, Empire Strikes Back and Return of the Jedi in the crispness of Blu-Ray and the soundtrack in hi-definition clarity.