Early fall buzz for Texas Killing Fields is fierce. That heat should only continue during these hot August days and nights with the debut of the based-on-a-true-story thriller.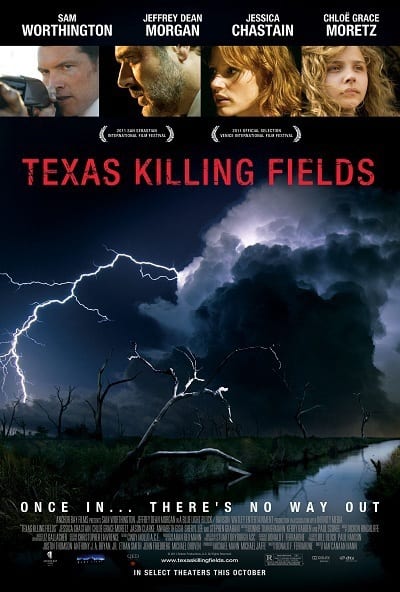 Sam Worthington (don't miss our exclusive video interview with the actor for The Debt August 30) stars as a Texas homicide investigator working a serial killer case with a former New York City cop (Jeffrey Dean Morgan). Texas Killing Fields is based on a true story where the title of the film comes from what police called the area where the killer left his victims.
The film arrives October 14 and also stars Jessica Chastain, who is having the year of her career. Fresh off her turn in the box office smash The Help, Chastain has The Debt releasing on August 31 (her exclusive video Q&A from The Debt premieres later today) and Killing Fields in October.
In Texas Killing Fields, midway through the investigation, the chronic murderer changes his modus operandi. Now, the cops are the target.
Texas Killing Fields is directed by Ami Canaan Mann and also stars Jason Clarke and Stephen Graham.