Movie Fanatic was in Anaheim over the weekend for the Disney Studios presentation of the studio's film slate for the foreseeable future. There were surprises aplenty, but the biggest was when the cast of The Avengers took the stage after a preview clip was shown.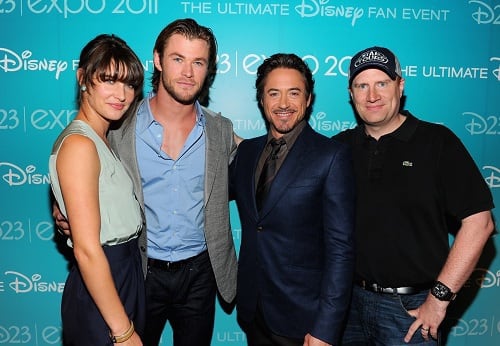 Robert Downey Jr., Scarlett Johansson, Cobie Smulders, Chris Hemsworth, Jeremy Renner, Tom Hiddleston and Scarlett Johansson took to the stage and the crowd went completely wild.
The new footage is impressive to say the least. Samuel L. Jackson was featured prominently, first talking to a jailed Loki (Hiddleston) as the Avengers look on via video.
The final moments of the film preview were chill-inducing.
Downey Jr.'s Tony Stark pours himself a drink as Loki listens. "Let's do a headcount," he says. He proceeds to tell Loki that the Avengers have two assassins, as footage is seen of Johansson's Black Widow and Renner's Hawkeye doing their thing. A clip of Thor wielding his hammer plays, a living legend who actually lives up to the legend, and a video cuts to Captain America staring at his new uniform -- and then Stark says, "And you big fella, have managed to piss off all of them."
Loki is undeterred and mutters, "I have an army."
Stark quickly, and fiercely, fires back: "We have a Hulk." Video of the green-faced menace fills the screen. The screen then goes black as The Avengers title appears.
The footage was so well received, it was played again as the cast even stuck around onstage to see the product of their hard work.
Then for the cast, it was back to Ohio to continue filming one of the most anticipated films of 2012.
Stay with Movie Fanatic as we report all the news from D23, including some incredible news about Pixar and its upcoming animated feature Brave.