The Dark Knight Rises: Batmobile Tumblers Make Debut in Pittsburgh
by MF Staff at . Comments
Without knowing The Dark Knight Rises was being filmed in Pittsburgh, residents might have thought their city was under attack over the weekend.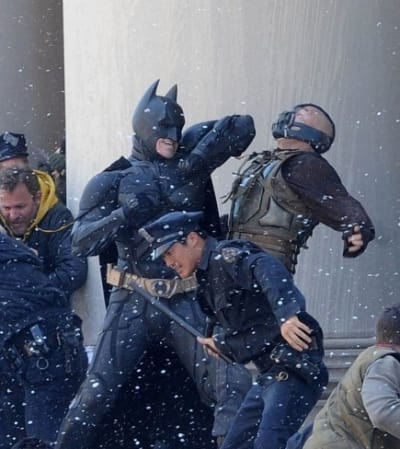 The Batman "tumblers" drove through the city's streets to film scenes at Carnegie Mellon University and on a few other of the Pennsylvania town's thoroughfares. The highly armored Batmobiles rolled through town as cameras rolled.
The Dark Knight Rises is the final film in the Christopher Nolan directed trilogy, starring Christian Bale. Inception star Tom Hardy is the film's villain, Bane, and was spotted shooting the film this past weekend. Watch Bale and Hardy go tete-a-tete on the steps of city hall below!