The Muppets Final Poster Drops: Jason Segel! Amy Adams! Kermit! And More!
by MF Staff at . Comments
It's time to light the lights , as The Muppets - starring Jason Segel and Amy Adams - has unveiled its final movie poster.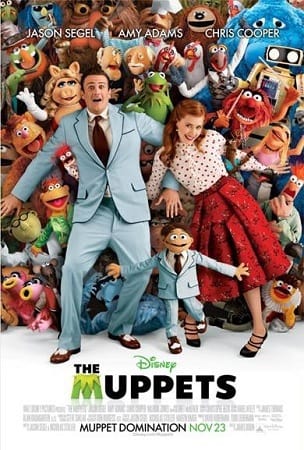 The Muppets
poster features Segel and Adams against a wall of Muppets including some of our favorites. Kermit, Miss Piggy and even Animal get in the picture as Disney readies for the Segel-written reboot of one of family cinema's greatest franchises.
Segel's take on taking The Muppets into the new century concerns his character Gary and Adams' Mary bringing Walter, a lifelong Muppets fan, to Los Angeles on vacation to visit the iconic Muppets Theater. Upon arrival, the trio discover that an oilman (Chris Cooper in his villainous best) has plans to destroy the iconic theater with the hopes of finding oil in the ground below.
They embark on launching the Greatest Muppet Telethon Ever in hopes of raising $10 million to save the theater where the Muppets once ruled. Audiences discover that the family of Muppets has gone their separate ways, so it is up to the trio to, as they say, get the band (of Muppets) back together. For example Fozzie is now a member of a Muppets cover band playing in a Reno casino, Miss Piggy is a plus-size fashion editor at Vogue Paris and Animal is in rehab for anger management (all bloody brilliant!).
The Muppets is due in theaters November 23 in time for Thanksgiving weekend. When we visited the set of the film, we were told of dozens of classic cameos, none of which we can share! Until then, we have the poster that should make any manic Muppet fanatic full of joy.