Although The Smurfs finished the weekend box office in a virtual tie with Cowboys and Aliens, it has continued to win each day since. As box office estimates have rolled out to include today -- August 4 -- The Smurfs has taken in $51.1 million to Cowboys and Aliens' $48.4 million.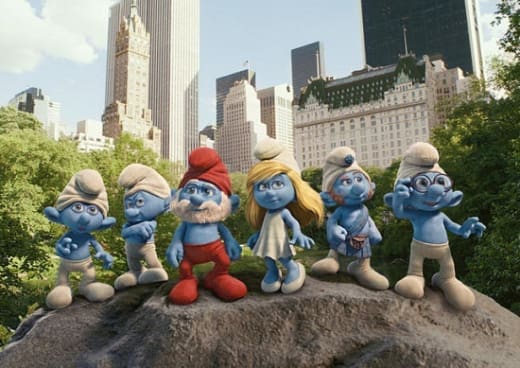 The Smurfs has proven to be a surprise hit for Sony Studios. Although honestly, my experience with the studio on an edit bay visit led me to believe they felt they truly had a winner on their hands. Therefore, for them, the success was anything but a surprise.
Sure, family films always do well in the summer, but if you had asked the average moviegoer last week if The Smurfs movie would have earned more money than a Jon Favreau-directed film starring Daniel Craig and Harrison Ford, they would have said you were crazy. Yet, after Cowboys and Aliens barely won the box office weekend (Cowboys earned $36.4 million to Smurfs' $35.6 million when all receipts were counted), The Smurfs has been killing it ever since.
Sony Studios must be beyond thrilled as they are trying to make their Sony Pictures Animation (SPA) property a force to be reckoned with in Hollywood.
Look for The Smurfs starring Neil Patrick Harris to continue to roll up the box office numbers as the film based on international characters created by the Belgian artist-author Peyo opens in 29 major foreign markets this upcoming weekend.