Apollo 18
answers the question: Why did we stop at 17 missions to the moon? After witnessing the film, it is easy to see why. The reason is terrifying, albeit hallow in its presentation.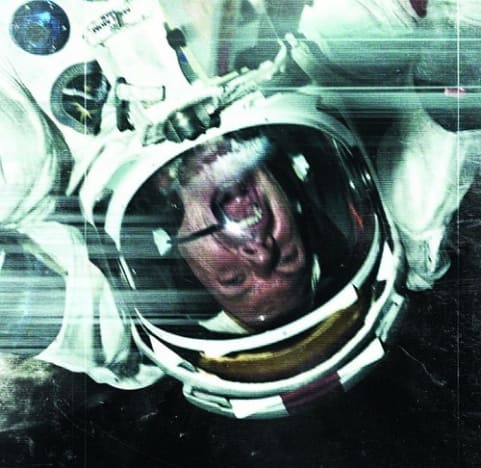 The film is culled from "lost" footage that is compiled to present the movie
Apollo 18
. Its beginnings are simple enough. Three astronauts that had thought they had missed their window to put boots on the moon are told that there is one last mission to the moon and they are the lucky few chosen to lead the effort.
Instead of being led by NASA, their mission is directed by a top secret edict by the Department of Defense. They are told to take dozens of Westinghouse cameras to the moon for what they are informed are the preliminary efforts to build an early detection missile defense system aimed at the Russians. The truth of their mission is much more devious and dangerous.
Apollo 18's
use of the "actual" footage gathered by the astronauts gives the audience a seat on the mission and for that, the filmmakers score. Yet, as is the case more often than not, found footage films are a risky endeavor. Sometimes it works intensely well, such as in
The Blair Witch Project
or
Paranormal Activity
, but when it doesn't, it is disastrous. Such is the case with
Apollo 18
. There are too many breaks in the footage, distorted images and moments of utter blackness that left us scratching our head.
There are periods of sheer terror and for that, kudos are in order. But, when it comes to storytelling, instilling fear can only go so far. Filled with numerous loose ends,
Apollo 18
suffers under the weight of its premise ironically. Audiences are given enough information to keep the story moving, but because of those plot holes, too many questions are left unanswered and therefore, hamper the film's effort to be taken seriously.
We will say this, when the film is complete, the supposed entity responsible for pulling the footage and creating
Apollo 18
the film, gives its web address.
Apollo 18
piques enough curiosity that as soon as this review is written, we are heading over to www.lunartruth.com to learn more about the film than what the movie could offer. In that sense,
Apollo 18
misses in its endeavor to answer the question of why Apollo 17 ended our journeys to the moon. Simply, the answers that may lie on the lunar truth website, should have found themselves deeply rooted in the film itself.