Before there was Titanic in Oscar history, Ben-Hur sat alone with its astounding 11 Academy Awards. The titanic film is celebrating 50 years and to mark that earth-shattering moment, the Ben-Hur 50th anniversary edition arrives on Blu-Ray and DVD and is the perfect gift for any cinephile or anyone who appreciates momentous movies.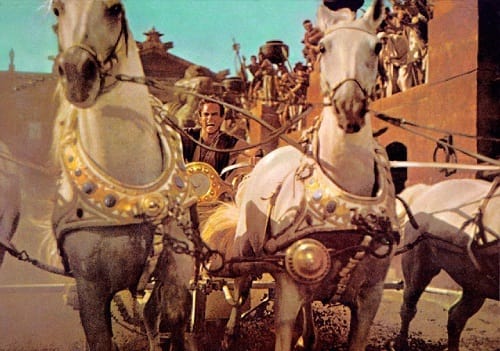 Can you imagine what it took to create an iconic film with the technology of today? The Blu-Ray and DVD
Ben-Hur
50th Anniversary edition takes breaks the fourth wall while still simultaneously maintaining the majesty of the epic scope that audiences a half a century ago marveled.
Charlton Heston may have made a name for himself playing Moses, but it is his turn as Judah Ben-Hur that will forever truly endear the actor to wide audiences. Oscar anointed him Best Actor that year as a nobleman in Palestine of Jewish heritage who embarks on an odyssey of the heroic kind. Heston anchors one of the most famous scenes in film history in
Ben-Hur
: The chariot race. The new edition features an explosive running commentary by Heston with film historian T. Gene Hatcher.
Director William Wyler more than earned his Oscar Best Director trophy. Particularly with the Blu-Ray 50th anniversary edition of
Ben-Hur
, Wyler's wizardry could be found to have holes. Yet, it not only stands up, but is improved by the crystal clear visual and audio.
Another spoke in the other worldly wonderfulness of
Ben-Hur
is its music. The home video package also includes the ability to harness Miklos Rozsa's Oscar-winning score that broke barriers all on its own.
Other extras that spellbound the film fanatic and average fan is classic docs including
Ben-Hur: The Making of an Epic
and
Ben-Hur: The Epic The Changed Cinema
. The amazing box set adds further layers to its power by including the 1925 silent version of Ben-Hur.
Ben Hur Video: Heston's Family Inside Access
Eleven Academy Awards is historic and the Ben-Hur box set illustrates that point by including highlights from the 1960 Oscar night that anointed a king of Hollywood history.

The thing about Ben-Hur above all its Oscars, stellar story and tent pole king of ten poles in Hollywood history is that at its core, the film possesses a passion story that audiences can wrap themselves in, regardless of age or era.