The Twilight Saga: Breaking Dawn Part 1 has released the cover image, track list and first single for its soundtrack. The previous films' soundtracks have all made it up the charts and with hit maker Bruno Mars leading the Breaking Dawn music compilation, this film's score should soar ever higher.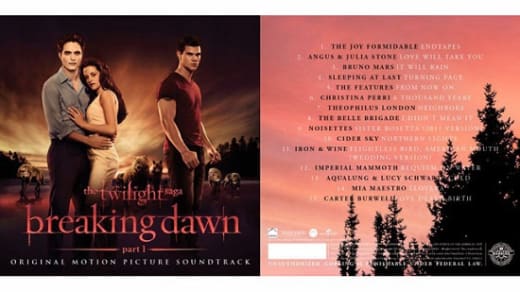 Mars not only gets the
Breaking Dawn Part 1
honor of its first single, but word is his
It Will Rain
will be featured during Edward (Robert Pattinson) and Bella's (Kristen Stewart) wedding.
Barely out 24 hours and
It Will Rain
is already number nine on the iTunes charts. Listen to it below!
Mars spoke to
Billboard
about the track and it appears the talent truly gets what his job was crafting a song for a
Twilight
film. "The
Twilight
movies for me are a love story," Mars said. "But it's a dark love story. And I think the best way to describe the song is: it's the darker side of love. I think that pretty much sums it up."  
Breaking Dawn Part 1
lands in theaters November 18. I know… too far away!
Here's a full list of the tracks from the
Breaking Dawn Part 1
soundtrack:
1.    The Joy Formidable:
Endtapes
2.    Angus & Julia Stone:
Love Will Take You
3.    Bruno Mars:
It Will Rain
4.    Sleeping At Last:
Turning Page
5.    The Features:
From Now On
6.    Christina Perri:
A Thousand Years
7.    Theophilus London:
Neighbors
8.    The Belle Brigade:
I Didn't Mean It
9.    Noisettes:
Sister Rosetta (2011 Version)
10.  Cider Sky:
Northern Lights
11.  Iron & Wine:
Flightless Bird, American Mouth (Wedding Version)
12.  Imperial Mammoth:
Requiem on Water
13.  Aqualung & Lucy Schwartz:
Cold
14.  Mia Maestro:
Llovera
15.  Carter Burwell:
Love Death Birth