Nick Swardson
is Bucky Larson in
Bucky Larson: Born to be a Star
, and to our surprise, he has helped to craft a film that is not crass as much as it is creatively sweet. Swardson is clearly one of our most talented comedians and that stellar ability is on full display in
Bucky Larson: Born to be a Star
.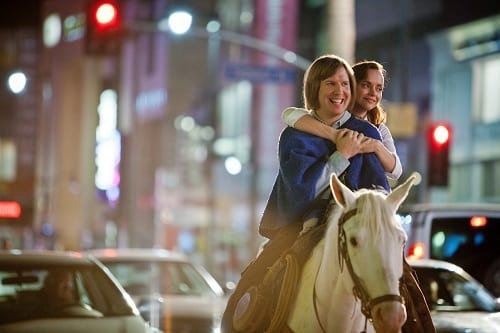 Bucky Larson: Born to be a Star
is definitely produced by Adam Sandler and his production company, Happy Madison. It has that feel and some of the actor's favorite players including Swardson (
Just Go With It
) and
Kevin Nealon
. There are two other performers who prove they are game for the madness of Happy Madison movies, Don Johnson and Christina Ricci. Both shine in their roles as the two people, other than Bucky's parents, who are integral to Larson's growth as a character as well as the parties responsible for moving the plot along through Bucky's eyes.
The film is not the most outstanding comedy we've seen all year, but audiences should be completely surprised by how insanely funny it is, and a large part of that credit has to go to Swardson -- the actor is truly coming into his own.
Matching how Sandler grew from
SNL
player to controller of his own movie destiny, Swardson is a co-writer and producer in addition to starring in
Bucky Larson: Born to be a Star
. It is, in fact, Swardson who proves with this film that it is he that is born to be a star.
Although the film follows a young man from Iowa who when he learns his parents were huge porn stars in the 1970s, heads to Hollywood to follow in their footsteps, it is not a porn parody film. I would argue that the porn industry in many ways is a minor player in what makes Bucky Larson work.
Once he arrives in Hollywood, he meets a sugary sweet Christina Ricci. She is more than a love interest. The actress provides a heart to the film that gives Larson his moral compass beyond what he inherently knew prior to his arrival in Los Angeles. She sees something in Bucky Larson that is exactly what audiences will see in Swardson's character. He may look funky with his bowl haircut and seriously buck teeth, yet Larson is a dreamer, and who cannot identify with his passion for pursuing a destiny?
Bucky Larson
is the surprise comedy hit for the fall. If you are a fan of Happy Madison movies, Swardson, Nealon or even Johnson, run, don't walk to the cinemas for a little living the Larson life. It is equally sweet as it is innocently inane. And we mean that in the most adoring of ways.