Nick Swardson is ready for his close-up in
Bucky Larson: Born to be a Star
. The supporting player in Adam Sandler films (
Just Go With It
) and
30 Minutes or Less
opposite Danny McBride is front and center in the film that features him as a co-writer, producer and full-on star.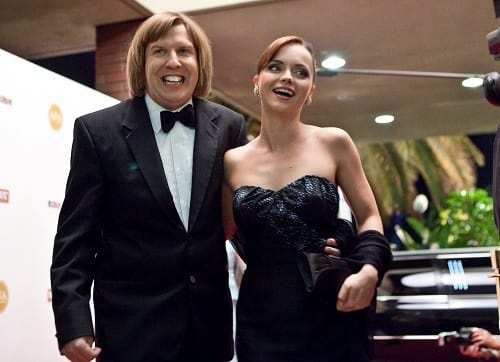 Swardson is visiting with Movie Fanatic for an exclusive video interview at the Beverly Hilton Hotel in Beverly Hills and is sitting awaiting us in the very same room where I interviewed Jim Carrey. With his performance as a dim-witted Iowa boy who heads to Hollywood with dreams of being a porn star, we for one, hope this comedian possesses the same star trajectory that Carrey has enjoyed.
Watching Swardson in
Bucky Larson: Born to be a Star
, in his buck toothed, bowl haircut style, is a piece of pure joy. There's an innocence to Swardson's characterization of Bucky Larson that brings a sweetness to a film that could otherwise be nothing but a naughty comedy trip.
Bucky Larson: Born to be a Star
lands in theaters September 9 and features a cast that is all game for bringing Swardson's silliness to the masses including
Kevin Nealon
,
Stephen Dorff
, Christina Ricci and Don Johnson.