Almost Famous director Cameron Crowe, of all filmmakers, is the perfect choice to helm a documentary of Pearl Jam's two decades of music excellence. Crowe, Pearl Jam lead singer Eddie Vedder and the entire band gathered Saturday at the Toronto Film Festival to discuss their documentary Pearl Jam 20.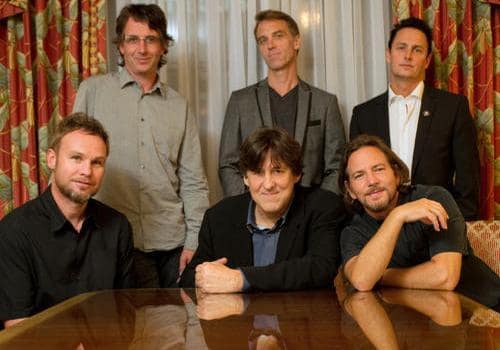 Crowe had a daunting task when making his documentary on the band that inspires such passion from its fans. The filmmaker, who began his career as a rock journalist as captured in Almost Famous, was presented with 1,000 hours of footage that the band had culled over the years. "I've always just wanted to be lucky enough to just tell a good story. And I've always felt that the story of Pearl Jam is a great story," Crowe said. "It takes the usual rock story and turns it on its head. The usual rock story is incredible promise and brilliance, maybe, and tragedy cuts it short -- and aren't we sad that we've lost this wonderful opportunity. Pearl Jam is exactly the opposite. It's a tragedy that was surmounted. And these guys found joy through survival and studying what happened with rock before with some of their heroes."

Vedder then chimed in about how taken he was with seeing his audiences' reaction to their performances in a new light by the way in which Crowe captured that essence through his lens. "You look at all the crowd reaction -- or the family that is the people that come to see the shows -- it's just music," Vedder said. "It's just guitars and drums and bass. To have it turn into this other thing is kind of a monument. I don't mean to self-aggrandize, but it's really something to see it and witness it. In this case, to be reminded of it and have it right there in front of us so that we can appreciate it even more. And know that we have a really strong base to cover the next twenty."

One of the most indelible images of the entire doc is witnessing Vedder and Nirvana lead singer Kurt Cobain slow dancing below the stage while Eric Clapton plays Tears in Heaven at the MTV Video Awards. "I saw it today for the first time," Vedder recalled. "It's not that I had remembered it. But, maybe it was a little longer than what I had seen before. For a second, the camera gets blurry or someone walks in front, and then after... you see Kurt."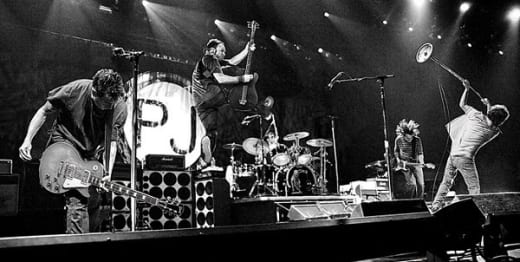 It was clear the moment in the film moved Vedder. "The first time I saw that footage, it was incredibly emotional," he said. "I think just because he's smiling. You just think: If he just could have pulled through."

Crowe worked hard at getting the footage, knowing it was out there, even though some thought the video of Vedder and his sometimes rival Cobain dancing together was just a rumor.

"That had been talked about, some people didn't quite remember it happening, others swore there was someone there with a camera," Crowe said.
 
Vedder added that the timing for the film, besides it being the band's two-decade anniversary, was perfect because of where they are at as a band.

"That's the thing about today. You know, maybe it's good that this movie kind of happened now. We've been in grateful mode and appreciation mode of each other for, I think, quite some time. The last few years, I think, have been a real graceful period for us," Vedder said. "But it's a galvanizing kind of moment to look at each other. It doesn't happen that often."

Pearl Jam 20 opens in over 60 cities in the U.S. September 20 and opens in more communities September 23.