Laurence Fishburne has been fighting the cinematic fight for decades. In fact, the Oscar nominee's first film was in the war classic
Apocalypse Now
. Through
Boyz n the Hood
,
The Matrix
and now
Contagion
, Fishburne excels at portraying characters that must persevere, despite all the cards stacked against them.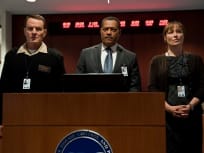 Fishburne is Dr. Ellis Cheever in
Contagion
, a man at the center of an international epidemic that threatens to wipe out the world's population. He is the head of the CDC (Centers for Disease Control) as news breaks that a character portrayed by
Gwyneth Paltrow
has returned from a trip to Asia and died 48 hours later. Soon two deaths become four, four explodes to 400 and before long, audiences are on the verge of witnessing 40 million succumb to the mysterious illness.
The film is managed with grace by director
Steven Soderbergh
, who has made a star player out of Fishburne's character that sits in the midst of a true ensemble film. As he goes, the story follows.
Fishburne visited with Movie Fanatic to talk
Contagion
, whether he's someone who is taken aback by the idea of germs wiping out the planet and how amongst the chaos of
Contagion's
action, the former
CSI
star most treasured his time acting opposite his movie fiancé, played by Sanaa Lathan.
Movie Fanatic:
How did you wrap your head around playing someone at the center of an unprecedented human race crisis, who still has the presence of mind to think and help the people he loves? How complex was that to play?
Laurence Fishburne:
It wasn't really that complex to me once I talked to Dr. Lipkin (of the CDC) who had real strong opinions about how all of this should play out. He was with us every day and he really is committed to what he does. He loves what he does. So we'd be working and he'd be on his phone and he'd go, "Let me show you this." It'd be something that could potentially be an outbreak. Almost every day, he'd have some new disease that the CDC is tracking and keeping an eye on. So it became really easy just to sort of go, "Oh, right. So the stakes for this thing you do are always here." [
Fishburne motions his hands way above his head.
] The personal stuff that I have as Ellis Cheever with telling my fiancé soon-to-be-wife Sanaa Lathan to get out of town, to leave, to pack up, to not talk to anyone, that's really easy. Any human being in this situation is going to do that.
Movie Fanatic:
You mention Sanaa Lathan, what a treasure she is as an actress. Were the scenes with her as much fun to film as we had watching?
Laurence Fishburne:
It was wonderful playing with Sanaa -- thanks for saying that, it's nice to know that feeling is there. It's beautiful. It was as nice playing with Sanaa as it was playing with Jennifer [Ehle].
Movie Fanatic:
The science aspect of the film was so impressive. I'm sure Dr. Lipkin helped, but you and Jennifer nailed it…
Laurence Fishburne:
I did that for a long time [on
CSI
]. [
Laughs
] But I think it's how I got this job, so it wasn't all bad [
coyly smiles
].
Movie Fanatic:
You must get dozens of scripts weekly. How did
Contagion
stand out?
Laurence Fishburne
: I was blown away by how smart it was because a lot of what is being made now is kinda stupid. So I was very honored to be asked to be a part of this. It's a really smart movie.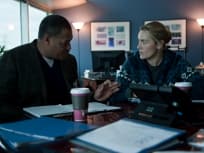 Movie Fanatic:
Has this film made you a germaphobe?
Laurence Fishburne:
I ain't afraid of germs, man.
[
We Laugh
]
Laurence Fishburne:
[
Continues
] And I ain't afraid of getting sick. Dying, that's some other (expletive), but the other stuff… [
smirks and then smiles
].