Just last week, Movie Fanatic ran a photo of Johnny Depp on the set of Dark Shadows and now there is an official shot from the Tim Burton film! The shot is a family photo of the Dark Shadows clan and is featured in Entertainment Weekly.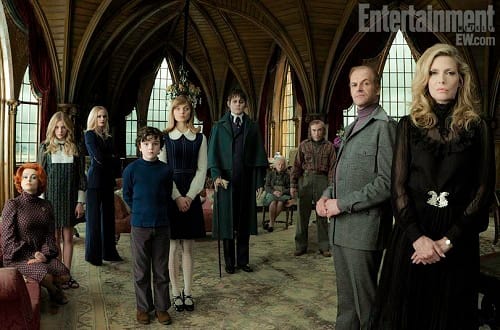 In the photo Depp is surprisingly sent to the background while the foreground cast members -- Michelle Pfeiffer and Jonny Lee Miller -- appear as the leads in the photo. Also note Burton's life love, Helena Bonham Carter, sitting coyly on the couch.
Depp is Barnabas Collins in
Dark Shadows
, based on the wildly popular 1960s soap opera that Burton is charged with bringing to the big screen. Fans of the original show have been abuzz over the casting of Depp and given his track record with Burton (
Edward Scissorhands
,
Ed Wood
,
Alice in Wonderland
,
Sweeney Todd
,
Charlie
and the Chocolate Factory
), the results should be astounding.
Entertainment Weekly
reveals that not everyone in this photo is a vampire. We'll have to wait until summer 2012 to find out more as
Dark Shadows
hits screens in the midst of the blockbuster movie season.