Daniel Craig and Rachel Weisz move into their Dream House and as we see in a newly released clip from the film, maybe the word "dream" should be replaced with "nightmare."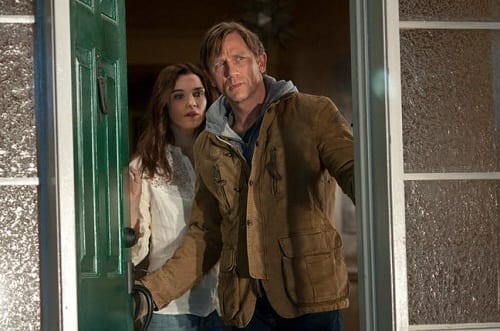 The new clip from the Universal Pictures film takes us inside the new home of Weisz and Craig as they find that everything dreamy about their home may have a sinister past.
Movie Fanatic would see anything Daniel Craig stars in, and Rachel Weisz as well for that matter. Witnessing the real-life couple as an onscreen couple with a haunted house-feeling film is giving us chills already.
Universal's new scene from
Dream House
is called
Who is Peter Ward?
It is a question whose answer will haunt the entire film, we have a feeling.
Dream House
opens everywhere September 30 and as much has been revealed in the film's trailer and clips such as the one below, do not doubt that there is much more than meets the eye in any preview from the directing talent of Jim Sheridan (
In the Name of the Father
and
My Left Foot
).