The DVD and Blu-Ray new releases this September 6 feature quite the drama from Will Ferrell's dramatic turn in
Everything Must Go
to
Saoirse Ronan
establishing herself as a star in
Hanna
.
Hanna:
A little girl (Saoirse Ronan) is brought up by her father (Eric Bana) in the middle of a desolate European forest. Near her sixteenth birthday, she decides it's time for her to re-enter the world. This isn't simply a story of an overprotective father not wanting his teenage girl to feel the world's harshness. This sixteen-year-old girl is a trained assassin being pursued by a government henchwoman (Cate Blanchett) bent on her destruction before exposing some kill or be killed secret.
Hanna
pulsates with action, intrigue and firmly places Ronan on the A-list of talented young actresses we want to see more from.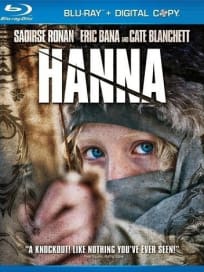 Everything Must Go:
Will Ferrell turns in a dramatic performance as a man who loses everything in one day. He is fired. His wife leaves him and he is locked out of his house with all his possessions strewn across the front yard. Instead of taking stock of his life immediately, he goes on a bender. The drama is top notch and Ferrell does get to be funny on occasion, but overall his dramatic chops are on full display in this sensitive and powerful film.
Vidal Sassoon The Movie:
This documentary looks at the first hairstylist celebrity, Vidal Sassoon. Sassoon took the fashion world by storm in the 1960s and
Vidal Sassoon: The Movie
takes audiences on the most unlikely journey of a man who rose from squalor to splendor while changing how we as a society think of hairstyles.