Thor
is not the only blockbuster film to be released on home video this week, there are a few huge ones that don't arrive in stores until a rare Friday release (
Star Wars
Blu-Ray and
X-Men: First Class
). We'll report on those later in the week. But, for now, home video is all about
Thor
, and in some ways the relatable film,
The Tempest
. As William Shakespeare expert Kenneth Branagh directed
Thor
and gave it a classic dysfunctional royal family Shakespearean feel, Shakespeare's
The Tempest
gets a redo with a cast led by Oscar winner Helen Mirren. Oh, and who could forget the home video release of
Hesher
with its astounding performance by Joseph Gordon Levitt?
Thor:
One of the best and most wonderful surprises of the summer is landing on DVD and Blu-Ray today and that is
Thor
. Chris Hemsworth is Thor and Branagh could not have cast anyone better. The film lives or dies in this casting and Hemsworth is a dream come true for
Thor
fans. The story follows the Norse god as he is banished to Earth from Asgard for going against the wishes of his father (Anthony Hopkins). Once on Earth, he meets Natalie Portman and trouble follows him. He must fight back the evil to save not only Asgard, but his new adoptive home as well.
The Tempest:
Helen Mirren rocks in this adaptation of the Shakespeare classic. Also look for killer performances from the underused Djimon Hounsou and Russell Brand as you've never seen him before.
The Tempest
is brought to life for its 2010 release by renowned director Julie Taymor.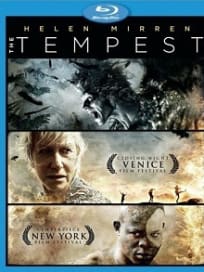 Hesher
: Joseph Gordon Levitt plays an anarchist (leagues away from his astounding turn in
50/50
) who lives in the garage of Rainn Wilson and his young son. The boy and his dad are lost in grief over the death of Wilson's wife and the boy's mother and an unlikely friendship is spawned producing comedy, drama and hope.