Chris Pratt is visiting with Movie Fanatic in Toronto at the city's film fest and he could not be more pleased with his career-making role in the Brad Pitt starring Moneyball. Pratt hits the perception of his acting talents out of the park as Scott Hatteberg, a member of the surprising Oakland A's that General Manager Billy Beane (Pitt) put together after losing Jason Giambi and Johnny Damon to free agency (the Yankees and Red Sox, respectively).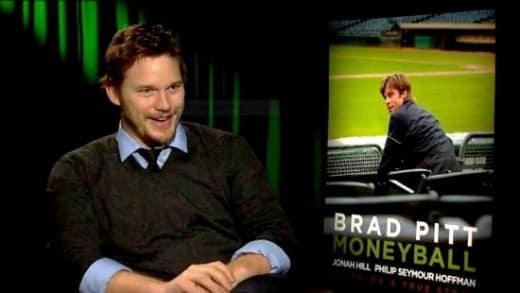 Pratt has been stealing scenes from episode one on NBC's hit
Parks and Recreation
, opposite Amy Poehler. And now he is set to make a name of himself in
Moneyball
, starring with Jonah Hill and Oscar winner Philip Seymour Hoffman.
As Movie Fanatic is as well, Pratt is beyond thrilled to be at the Toronto Film Festival. In our exclusive video interview, he talks about working across Brad Pitt, putting on the Major League Baseball uniform and having a jaw-dropping moment as well as having the chance to, on screen, live out every little boy's dream.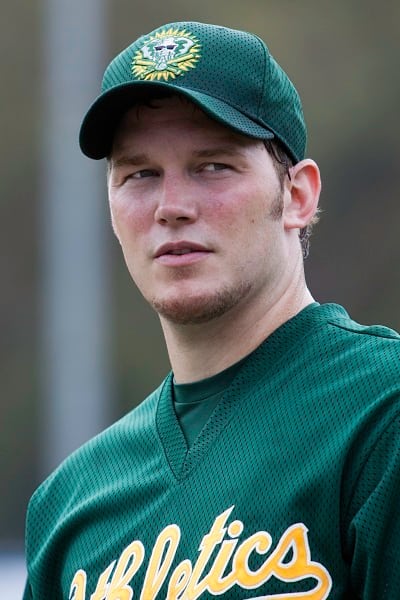 Pratt is innately gifted in comedy, as he has shown in Parks and Rec, but also films such as Take Me Home Tonight and the upcoming What's Your Number, both starring opposite his real life wife, Anna Faris. Upcoming, besides the new season of Parks and Rec, Pratt has scored a part on the highly anticipated comedy The Five-Year Engagement with Jason Segel, Community's Alison Brie and The Office's Mindy Kaling.