Paramount has released a new behind the scenes clip from Footloose that gives audiences an insight into capturing the always tricky line dance sequence. Footloose is launching for a new generation based strongly on the 1984 classic starring Kevin Bacon.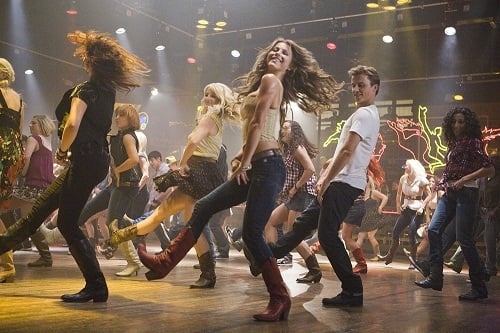 "I saw
Footloose
in my hometown theater when I was 13 years old and it rocked my world," said director Craig Brewer.
"It was a teenage rebellion movie that explored the struggles of faith and family in a small town, and it had an awesome soundtrack. I can promise
Footloose
fans that I will be true to the spirit of the original film. But I still gotta put my own Southern grit into it and kick it into 2011. It's going to be a blast!"
The producer of the original, Craig Zadan, talks about history repeating itself with
Footloose
2011.
"When we discovered Kevin Bacon in 1984, we were both excited and gratified -- and also knew the chances of ever duplicating that effort was a million to one shot. Decades later Kenny Wormald proved history could repeat itself," said Zadan. The man who inherited Bacon's dancing shoes first dazzled in an Oscar nominated Terrence Howard film.
"We've wanted to work with Brewer ever since we saw
Hustle & Flow
," added Zadan. "His fresh and contemporary vision will bring
Footloose
to a whole new generation of moviegoers when the movie opens in 2011."
Thanks to Paramount for the following clip to get you excited for cutting
Footloose
in October. Limber up those legs, it's time for line dancing.