Sarah Jessica Parker leaves her usual cinematic confines of New York City for I Don't Know How She Does It, set in Boston. Parker portrays Kate, a wife and mother of small children with a flourishing career that leads to the title question. Audiences' question will be: Is How She Does It an entertaining visit to the theater?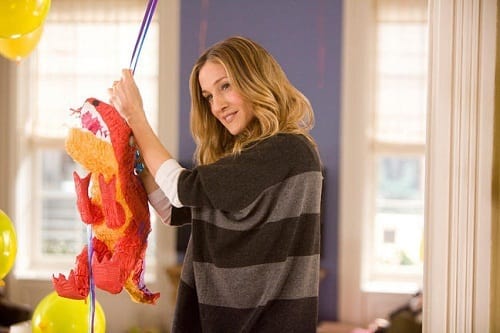 If you feel as if this movie has been done before, it is probably because it has in various incarnations with diverse stars and situations. But in many ways, this is a situational comedy done differently.
The film is based on the book by Allison Pearson that was a runaway success. Like
Confessions of a Shopaholic
and
Something Borrowed
before it, the film will unfortunately disappoint those looking for an onscreen explosion worthy of the big screen treatment of a book they adore. But, that is not to say that
I Don't Know How She Does It
the movie is without merit.
Parker is her usual affable self. We can think of no other actress that would have been perfect for the part. She is Kate in every way. The supporting cast around her is also up for the challenge of bringing a popular book to the big screen. Greg Kinnear turns in one of his best performances of his career as Parker's husband, who too is struggling with how to do it all while still finding peace and happiness in life. Pierce Brosnan brings his stellar swagger to the role of a business associate of Parker's and seems to delight with his time on screen. Brosnan is fantastic in a supporting role and kudos for him for not seeking the limelight -- as he easily could -- in each scene he inhabits.
The supporting cast beyond Kinnear and Brosnan also delight. Busy Philipps (
Cougartown
) and Christina Hendricks (
Mad Men
, and much better used in
Drive
) both add layers to the film that are much needed. Less utilized is Olivia Munn as the overworked assistant to Parker.
Although used for story movement, the use of Parker's voice-over in the film recalls her narration on
Sex and the City
, with a lot less effect. Oftentimes filmmakers will use such devices to move the plot when the storyline is established by a book. On film, it is difficult to get inside characters' heads and narration is an easy fix. That's exactly the problem.
I Don't Know How She Does It
doesn't need easy solutions. The book it's based on is a phenomenon and there had to be enough exposition throughout the novel to not have to rely on Parker's voice-over that feels like a crutch.
The plus points in
I Don't Know How She Does It
are the performers. Parker, Kinnear, Brosnan and the supporting cast are a joy to watch. The script they have to work with, unfortunately, fails them and makes the film a passable comedy that could have been so much more.