While
Gillian Anderson
was promoting her turn in the Rowan Atkinson sequel to
Johnny English
,
Johnny English Reborn
, she said a little something that should have
X-Files
fans drooling in anticipation.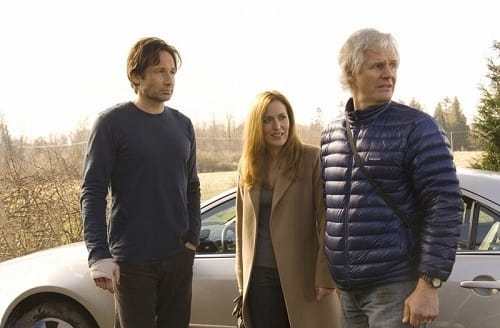 Anderson admitted there was "something going on" in regards to a script being developed and that the "talk" about it seems quite serious. The actress even put a fine point on her sentiment about returning to the role of Agent Scully by saying, "You know what? Scully wouldn't be so bad. I could do that again."
Where the first
X-Files
film continued the TV show's mythology, the second film could be thought of as a stand alone. In that manner, witnessing Mulder and Scully go at it once again would be welcome news.
Movie Fanatic was recently thinking about what happened to
X-Files'
Chris Carter and when we would hear from him next. His screenplay
Fencewalker
is in post-production, but it has been a few years since audiences enjoyed his work behind the camera.
X-Files
ran for nine seasons before heading off into the television sunset, produced two films and legions of passionate fans in the process. Is there a hunger for another go from
X-Files
fans? You bet.
The question that immediately comes to mind is: Will
David Duchovny
be down for a third cinematic visit to the mysterious worlds of Agent Scully and Agent Mulder? Although the actor is killing it on Showtime's
Californication
, there could be some serious interest on Duchovny's part to get back on to the big screen -- even if it means having to wield Mulder's FBI badge once again.