Butter, starring Jennifer Garner, took the Toronto Film Festival by storm. Now, the film has released a new clip from the Jim Field Smith directed film that sure sets the tone for audiences to hone in on what the big deal is about Butter.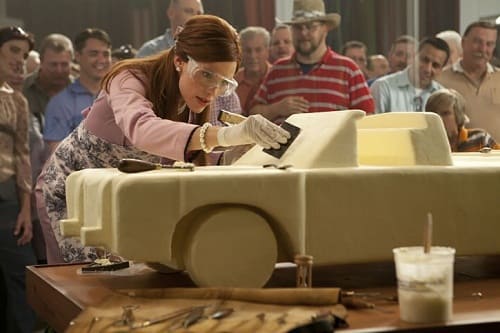 The film is so much more than a story about a butter carving contest in the Midwest. What is clear from
Butter's
new clip is that the film is a parody of the 2008 Democratic presidential primary -- particularly the battle between Hillary Clinton and Barack Obama.
Butter
has an impressive cast beyond the star wattage of Garner. Olivia Wilde, Hugh Jackman, Phyllis Smith, Alicia Silverstone, Ashley Greene, Ty Burrell, Rob Corddry and Kristen Schaal all star in what is sure to be an instant classic. The film arrives in theaters October 21 and until then, this clip will have to whet your appetite for
Butter
.