Johnny Depp is donning bleach-white makeup once again for director Tim Burton. After turns in Edward Scissorhands, Alice in Wonderland, Sweeney Todd and Charlie and the Chocolate Factory, putting on the white face powder for Burton should be old hat for Depp (pun intended given his chapeau in the photo below!).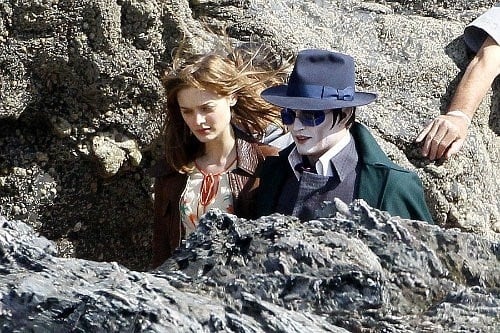 Movie Fanatic has obtained a photo from the U.K. set of
Dark Shadows
, and is it us or does he look a little bit like Michael Jackson late in life? But seriously, Depp in white makeup has had stellar results for Burton and judging by the built-in fan base of
Dark Shadows
, this go-around with Depp should be no different.
Dark Shadows
is based on the wildly successful soap series about Barnabas Collins, a vampire with a knack for battling various creatures of the supernatural. From ghosts to werewolves and witches, Collins battles them all.
The film is expected to be released in time for summer 2012. Filmmakers are eying the May 11 weekend specifically.
Dark Shadows
sports an excellent cast (when does a Burton film not?) including Oscar nominee Jackie Earle Haley, Burton's longtime partner Helena Bonham Carter, Michelle Pfeiffer and Jonny Lee Miller.