A new 15-second trailer for
Breaking Dawn Part 1
has arrived. The preview shows a few new shots for fans, but one thing is clear:
Breaking Dawn Part 1
is no honeymoon -- danger lies ahead.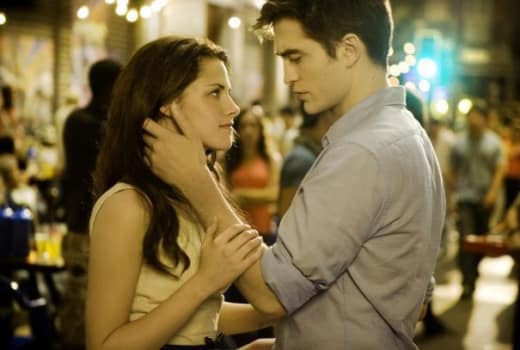 Days after Summit Entertainment released
two new Breaking Dawn Part 1 posters
, they have given fans a short glimpse into the November film. The tension is ripe for our heroes Jacob (Taylor Lautner), Bella (Kristen Stewart) and Edward (Robert Pattinson) as the end to the sweeping epic series is clearly within reach.
Right off the bat, Stewart's Bella begins to feel something is growing inside her. Sure, that seems like a funny way to describe her learning she's pregnant. But, if you know the series, this is no ordinary pregnancy. Before long, that vampire hybrid baby will be making its debut into the world (with a little help from Edward's teeth!).
The spot does a great job at showing how the fear in Bella's eyes is not the normal reaction to discovering a newlywed is pregnant. Why shouldn't she be scared? Now that she is pregnant, her life will truly never be the same again.