Moneyball has charmed critics and audiences alike, both finding themselves leaping to their collective feet. Brad Pitt stars as Billy Beane, the real life General Manager of the Oakland A's. After free agency has stripped his team of All-Stars, Pitt as Beane tries to reinvent the game with the help of Jonah Hill's Peter Brand, a Yale educated statistics man.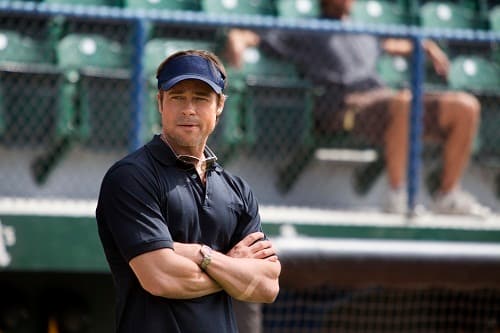 So, without further ado, here are some inspirational and memorable
Moneyball quotes
.
Peter Brand:
Your goal shouldn't be to buy players. Your goal should be to buy wins. In order to buy wins, you need to buy runs. |
permalink
Billy Beane:
There are rich teams, and there are poor teams. Then there's 50 feet of crap. And then there's us. |
permalink
Billy Beane:
How can you not be romantic about baseball? |
permalink
David Justice:
What's your biggest fear?
Scott Hatteberg:
A baseball being hit in my general direction. |
permalink
Billy Beane:
We are card counters at the blackjack table. And we're gonna turn the odds on the casino. |
permalink
Billy Beane:
If we pull this off, we change the game. We change the game for good. |
permalink