Relativity is releasing a fascinating upcoming film that has Movie Fanatic's attention peaked. We adore anything Edgar Allen Poe and to hear that John Cusack (one of our favorite actors) is playing the iconic writer in The Raven, color us excited. The studio has given us a photo from the upcoming film of Alice Eve in her period costume best. Read on for more riveting details from the upcoming film.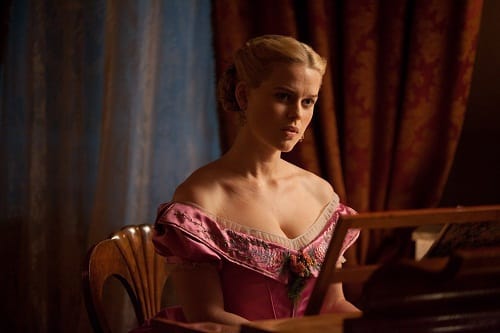 The Raven
stars Luke Evans, inhabiting a Baltimore detective hot on the trail of a serial killer who is using the author's writings as inspiration for his murder spree. Feeling somewhat responsible, Cusack's Poe joins the investigation hoping to use his knowledge of his work to stop the killer before he strikes again.
The title of the film of course arises from one of Poe's most famous works and if the film is half as gripping as Poe's prose, audiences are in for one incredible thrill ride.
The Raven
arrives in theaters March 9, 2012 with Brendan Gleeson also starring.