In real life, gone are the days of Cold War type espionage, so why not relive the conduit to great suspense with the upcoming
Tinker Tailor Soldier Spy
? In anticipation of the film's arrival in the fall, we've got a new clip from the film sure to tantalize.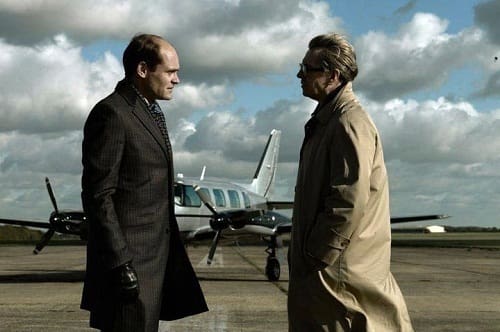 The clip features the always astounding Mark Strong (
Green Lantern
) and the UK acting legend John Hurt in the dawn of the 1970s as the Cold War is at one of its iciest moments.
Hurt and Strong aren't the only stellar players assembled to bring author John Le Carre's literary stunner to the screen.
Tinker Tailor Soldier Spy
also stars recent Oscar winner Colin Firth, Gary Oldman, Ciaran Hinds (
The Debt
) and Tom Hardy (
Dark Knight Rises
).
The story follows George Smiley (Oldman) who is coaxed out of retirement from MI6 to weed out a Soviet spy in the British spy service.
Tinker Tailor Soldier Spy
is premiering this weekend at the esteemed Venice Film Festival and opens in the U.K. September 16, yet doesn't arrive on American screens until December 9.