Puncture, although a true story, is really the Chris Evans show. Evans stars as Mike Weiss, a Houston lawyer with uncanny debate abilities that are only hampered by his drug addiction. He and his partner, Paul Danziger (played by co-director, co-writer and star Mark Kassen), are enlisted by an ER nurse who has been punctured by a patient's needle and contracted HIV.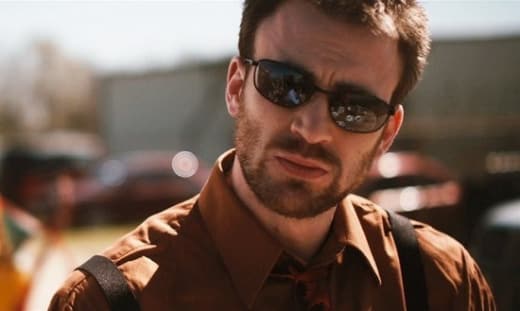 At its heart,
Puncture
is not about the ER nurse seeking retribution against the hospital. The film is a corporate greed story with the medical equipment business square in the filmmaker's cross-hairs. Vicky (
Vinessa Shaw
) is passionate about fellow nurses not contracting diseases as she has and knows of an inventor who has created a needle that may only be used once and therefore, will never re-prick anyone. Its use has far-reaching impact as audiences learn that large amounts of the spread of HIV in Africa have to do with the re-using of needles.
Evans and Kassen form a great duo in the acting department. Where Evans plays his character as wild and brilliant, Kassen's Danziger is a family man who has passion, but still has one eye firmly on the firm's bottom line. He is willing to take this case, but only so far as the duo's firm can afford it.
When the pair first get push-back from one of the largest law firms in Houston, Evans knows they have struck a chord. Yet, Kassen sees it as a sign that they are in a fight they cannot win.
This is where
Puncture
evolves into the Chris Evans show. The actor, fresh off his star-making role in
Captain America: The First Avenger
, shows how much range and power he possesses in a role that is equally reckless, riveting and ultimately, deeply tragic.
Puncture
is powerful. It lays its story out methodically with an ever-building crescendo towards a finish that has the audience always asking, "How will this resolve?" The questions will, in fact, linger long after the credits roll.
Since it is a true story, audiences aren't necessarily given a happy ending. And like a corporate greed movie, particularly one that rings true with facts, the audience should be compelled to action. That is what a movie like
Puncture
does best: Motivate passive moviegoers to not accept the status quo that the movie's heroes have championed.
Yes, Evans in
Puncture
is a hero. But where in
Captain America
he is a hero that wields a shield covered in red, white and blue, in
Puncture
, he is still wielding the red, white and blue -- but in the form of the U.S. legal system. He has a clear vision of what's right and what's wrong and mirrors Captain America's will to help all who need it.
There is something inherently off about
Puncture
, but that is exactly as it should be. The film doesn't leave you with that rosy feeling of justice being served. In fact, the film feels as if the fight is simply beginning. With more attorneys possessing the passion of Evans' Weiss, we may just get there someday.