After Scream 4 took in $97 million, more than double its budget, it is hardly a surprise that director Wes Craven is saying that Scream 5 is a go. Toss in the fact that Craven is signed for a fifth and sixth film, and the chances for a fifth Scream seem all but certain.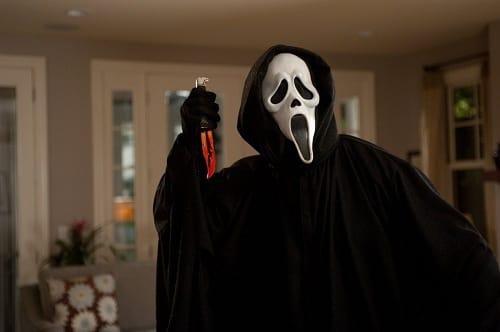 Craven was talking with MovieWeb and when the topic of a fifth installment of his wickedly successful movie series came up, he was quite optimistic. "The odds are that there will be a
Scream 5
. It is something that Bob Weinstein wants to do. He tends to do what he wants to do. So I am inclined to think that there will be another sequel," Craven said.
The gray part of this deal is whether audiences can expect the horror master to helm it. "Whether I will be a part of it or not -- I don't know. My contract gives me the first look. If they show me something that is really wonderful? Of course I will be a part of it."
Writer Kevin Williamson was the brains behind the story with the entire series, and although he has commitments with TV's
Vampire Diaries
and
The Secret Circle
, Craven is hoping Williamson will pen the fifth and sixth
Scream
film. "Kevin Williamson has been the writer since day one," Craven said.
"He has been the writer on all of these projects, at least at the beginning of them.  Typically what will happen is that Bob Weinstein or Kevin Williamson will come up with a new idea, and they will pitch it to one or the other. If they both like it, they will toss it around and see if they can develop it into an overarching concept. Then I get the telephone call. They say, 'We have something to show you.'"