Super 8, one of Movie Fanatic's Top 10 movies of 2011 so far, will be coming home on DVD and Blu-Ray, Paramount Home Entertainment has announced. The film from director J.J. Abrams and producer Steven Spielberg lands on home video November 22.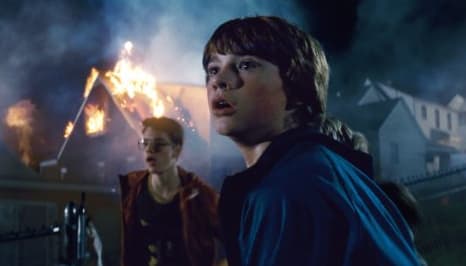 The supernatural thriller will be released on Blu-Ray/DVD combo pack along with that always wonderful digital copy in late November and we cannot wait to see what's inside. The always astounding Abrams should have plenty of extras to make
Super 8
the big home video release of November.
Super 8
is set in 1979 and follows a group of friends making their own zombie movie. Out one night filming a scene, the gang witnesses a horrible train crash that unleashes something undefined, yet terrifying. Their small town is suddenly the center of the world with the military practically taking over as the community's lawman -- expertly played by Kyle Chandler -- tries to make sense of it all.
Abrams managed to pay homage to Spielberg's movies while still crafting a unique thriller that has touches of his own
Cloverfield
.
The DVD/Blu-Ray release promises eight behind-the-scenes featurettes that cover the origins of Abrams' story as well as how the filmmaker chose his cast, locations and score.
Stay with Movie Fanatic as we bring you more insight to one of the big home video releases of the year in
Super 8
.