While screening another film -- Straw Dogs -- last night, Movie Fanatic was treated to an eight minute teaser, trailer, and all around mouth-dropping experience prior to the film. Without the images, which we cannot show you, let us take you through the out-of-body moment that was witnessing eight minutes of David Fincher's The Girl with the Dragon Tattoo. Fans of the book series by Stieg Larsson and the Swedish movie trilogy, you will be pleased. With Fincher as director, Rooney Mara as Lisbeth, Daniel Craig as Mikael Blomkvist and Nine Inch Nails' Trent Reznor doing the soundtrack, Dragon Tattoo is looking to be beyond terrific.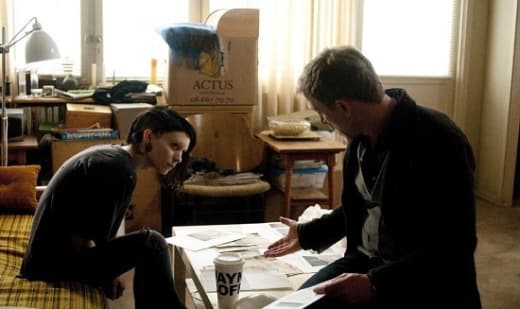 The teaser begins with Christopher Plummer, in a way, narrating our story. His vocal resonance creates a landscape in which each soul in the audience was ready to be engulfed. Immediately Fincher's field of play, the frozen and somewhat baron tundra of the Scandinavian movie's locale, is front and center.
Yes the images and the story compel behind belief, but what most impressed was Reznor's mesmerizing score. It was iconic, impressive and without parallel. The Oscar winner for the score for
The Social Network
is proving that award was the furthest thing from a fluke.  
The plot stays true to the original books and Swedish film trilogy. The cinematography is vast in scope without trampling on the storyline, which is thrilling.
The Girl with the Dragon Tattoo
's eight minute clip showcased plenty of conversation between Plummer, Mara, Craig and the perfectly cast Henrik Vanger. It also gave us very clear bookends to what the story of the film will be about, all peppered with indelible images to boot.
Over the entire eight minutes, not a soul in the audience breathed or unlocked their jaw in amazement. That must have been quite a site for filmmaker David Fincher, who was in attendance. The rousing applause at the end of the clip didn't hurt Fincher's feelings either.
Whenever the full eight minute trailer is released, and we're hoping it will be, Movie Fanatic will bring it to our readers as fast as the speed of sound.