The first poster for The Rum Diary did not feature its star, Johnny Depp. It was a clever use of mini liquor bottles spelling out the words The Rum Diary. Finally, they are putting the biggest movie star in the world on the poster.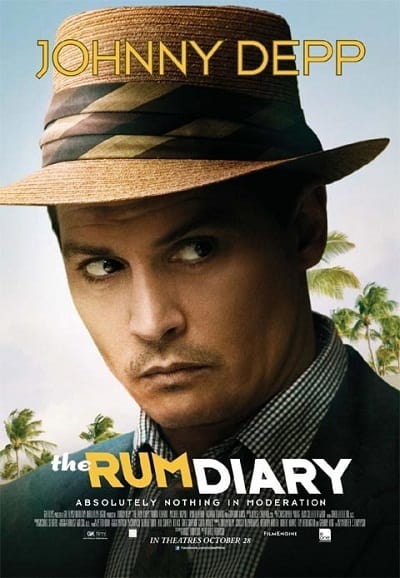 Depp is Paul Kemp in
The Rum Diary
, a journalist who heads to Puerto Rico for a position at a daily newspaper. In typical Hunter S. Thompson fashion, whose book the film is based on, Kemp winds up spending time with an interesting cast of characters with trouble sure to ensue.
The film takes place in the 1950s and judging by
The Rum Diary trailer
, the art director nailed it.
Rum Diary
also stars Oscar nominee Richard Jenkins, Amber Heard as the wife of Aaron Eckhart's character (who may or may not be on the up and up) and the always interesting Giovanni Ribisi.
On October 28 the film arrives and if it is half as fun as Depp's first go-around as a Thompson character in
Fear and Loathing in Las Vegas
, consider us locked and ready to go on a
Rum Diary
binge.