The Thing has a special place in our mind's eye as it was one of our first truly terrifying experiences at the cinema. John Carpenter took the simplest of concepts -- an alien force slowly taking over a crew of individuals at an Arctic outpost -- and made it drip with uncanny horror. Fast forward to 2011 and audiences are set to return to the frozen tundra for a new batch of The Thing terror.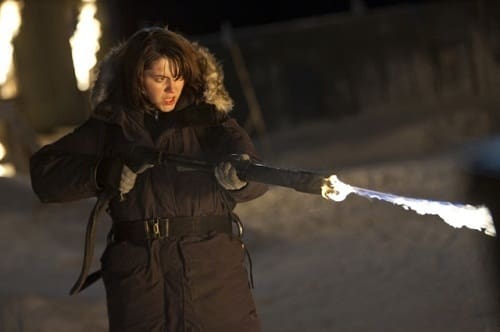 Universal has released a new TV spot for their
Thing
remake-prequel. The clip certainly shows quite a bit, in fact some have said it gives away too much. But in the context of this spot, this is nothing new in the horror genre. For decades they have shown everything but the kitchen sink in their trailers, yet the horror is still crisp when the film is screened. For that, we can thank context. Searing images put together out of a timeline do not take away too much from the experience. But, when those images are seen within the confines of the story with characters we are now attached to as they go through their horror, that is a different story.
The Thing
has come a long way since the 1981 Carpenter version. For one thing, the special effects are now CGI. You can debate whether that is a good thing or not, but for now… simply sit back and enjoy
The Thing
2011. And yes, the dog is still in the picture!