What's Your Number director Mark Mylod first met Anna Faris on the set of his Entourage, where he served as director and co-executive producer. When he heard about Faris being attached to What's Your Number, he "knocked down doors" to get involved.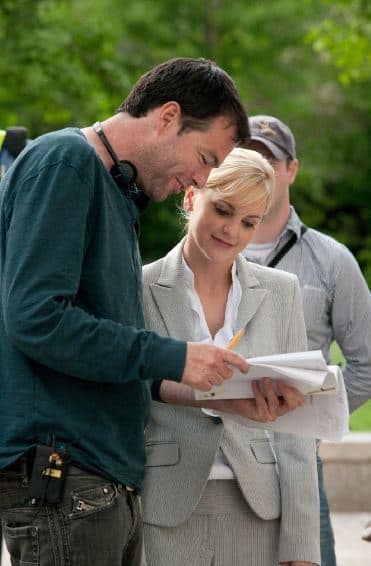 No stranger to comedy work, Mylod directed the Sacha Baron Cohen film
Ali G Indahouse
. The director was born and raised in the U.K., but moved to Hollywood in 2007 to make his mark. His work on
Entourage
was astounding and now that the show is over, his first project for movie audiences is the romantic comedy
What's Your Number
. The film also stars Chris Evans and a bounty of comic actors. It follows Faris as she goes through her exes believing that one of them is "The One."
Movie Fanatic:
What grabbed you about
What's Your Number
and why did it have to be your first film after
Entourage
?
Mark Mylod:
I saw the script and loved it. So, I got in touch with the producers and talked to Sony who had the movie at that time. I kind of knocked down doors until they gave me the movie. I got attached to the movie then, but Sony didn't want to green light the movie for another year because it didn't work into their distribution plan. New Regency was smart and picked up the project which was in turn-around. They put it on the fast track and we all got together and got into production.
Movie Fanatic:
What was it about meeting Anna on
Entourage
that made you insistent on being a part of
What's Your Number
?
M
ark Mylod:
She came along as a guest star for a few episodes and we just hit it off. It's not like we kept in contact. We got along terribly well, and I did have an ambition to work with her because really funny women in Hollywood -- they're there -- but there are not that many of them.
Movie Fanatic: The film is based on a book. Did the author have much say in the script?

Mark Mylod: To be honest, no. Because the needs of a screenplay are so different than a novel, the screenwriters really know how to write screenplays, so Cam was around on the set as a guest and part of our production family, but in terms of the actual adaptation, that was a clean slate.

Movie Fanatic: What was it about Chris Evans that you thought was perfect?

Mark Mylod: That was a fun process hiring Chris because we kind of went through the ringer trying to find our Colin. I met with a whole eclectic group of actors, I don't want to name names, but it was a huge group. Chris was really passionate about it. In terms of the big star he is now, post Captain America, he wasn't then. When he first came in to read for the role, in fact he missed the first read because he was sick. He flew himself in the next week. He really wanted to read for the role. He just killed it. It's very easy to cast someone as a director when the right person walks in. It's only when you don't see the right person that you have to compromise. When the right person walks in, you know. Chris walked in and he had that combination that he brings to the Captain America character -- which is strong and masculine and sexy -- but there's a lovely vulnerability as well. Plus, I didn't know he could be that funny. I'd spoken with Danny Boyle, who had worked with him on a very serious drama, and Danny said he's got great comic timing. He was that perfect combination of what Colin is.

Movie Fanatic: What was it about Anna that you most enjoy directing?

Mark Mylod: With Anna, it was like Cinderella with the slipper fitting. There was such a great match there. With her aboard, we did work on the physical comedy -- like in the DC library scene where she moves the table…

Movie Fanatic: Which is hilarious…
Mark Mylod: Exactly, that was added. Originally it was her just moving a chair. We adjusted it to give Anna her space to shine with her physical comedy.

Movie Fanatic: Was the strip basketball at the Boston Garden her idea too?

Mark Mylod: Actually that scene came out of duress because we were supposed to be shooting in DC where Chris' character comes to visit Anna's character who is down in the dumps. They end up doing a naked tour of DC monuments and it quickly became clear that the FBI would arrest us if we did any such thing [laughs]. We were shooting in Boston too, obviously, so we started thinking about naked walking the Freedom Trail -- that was deemed too disrespectful. About a week before we were to shoot the scene, plucked from somewhere, we came up with the idea of playing strip horse at the Garden, which was just inspired. It turned into one of my favorite scenes in the movie.