24 Movie Inches Closer to Happening: Kiefer Sutherland Proudly States
by Joel D Amos at . Comments
The creative team of
24
needed to "relax," according to star
Kiefer Sutherland
, to create a storyline that would work for them in taking Jack Bauer to the big screen. A script for a
24
movie is almost done!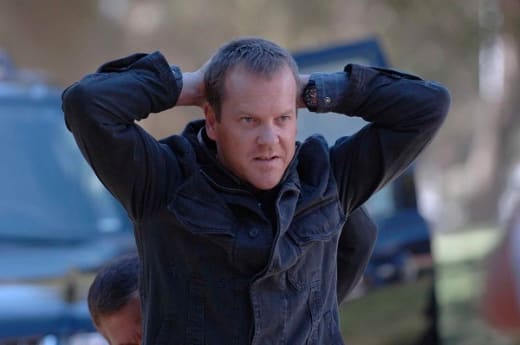 What
24
did as a TV series that worked so impeccably well was its pacing of presenting a day in the life of Bauer and the national catastrophe he was averting, an hour at a time over 24 episodes.
Sutherland was quoted as saying that throughout the entire script writing process for the film, trying to condense that electricity into two hours was the giant speed bump that prevented them from going forward.
"That's been the most difficult thing. You have to remember that we have 24 hours to explain the stories in
24
and so trying to condense that into a two-hour film version has been a real shift in gear for us," Sutherland told
The Telegraph
. "We were originally trying to make it too big and put too much into it – but once we relaxed, we found out how to tell that story. So yes we definitely do plan on making the film."