Anonymous presents a pretty solid case for answering the centuries-long debate as to whether William Shakespeare truly composed all his classics. As envisioned by screenwriter John Orloff (who spent 15 years researching the question) and director Roland Emmerich (making a nice turn away from disaster fare such as Independence Day and 2012), Anonymous will astound -- even if you disagree with the film's findings.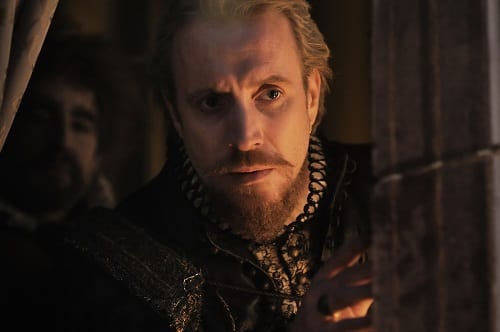 In
Anonymous
, Rhys Ifans is mesmerizing as the Earl of Oxford. He is a man more than pleased with his position in Queen Elizabeth's court. Yet, there is something more he wants out of life. He has an inner playwright that is, because of social norms, unable to flourish. It would be beneath his stature in society to be seen writing anything, much less composing plays performed by those disdained theater types. So, what's a talent to do? Why, find an actor with a passion for the theater and pay him to put his name on your work.
William Shakespeare, as embodied by
Rafe Spalls
, is a drunken buffoon. The son of illiterates, he is a somewhat talented thespian who has fate meet him squarely in the eye. Shakespeare, in
Anonymous
, loves attention, so when the plays really written by the Earl of Oxford become sensations, he basks in the glory without regard to the Earl's efforts. Thus begins a tenacious relationship between the two that sends Ifans' character into a panic of ego letdown.
Anonymous'
cast is stellar -- from Spalls to Ifans, the performers dazzle. In a piece of casting genius, real life mother and daughter Vanessa Redgrave and Joely Richardson play Queen Elizabeth as an older and younger woman, respectively. And Jamie Campbell Bower also delights in his role as Ifans' Earl in his younger years.
What Movie Fanatic is left with after witnessing Anonymous' majesty is that its director, Emmerich, will surprise audiences with his adept storytelling, awareness of the power of the period piece, and how he efficiently lays out the argument that history's greatest writer was indeed a fraud.

When film is at its best, it leaves the audiences thinking after they leave the theater. Anonymous does that and more. Like a trial with a prosecutor at the top of his or her game, in this case the audience is the jury, and it will be up to those who see Anonymous to come to their own conclusion. But, in the hands of Orloff and Emmerich, Anonymous makes one pretty compelling argument.

Is Shakespeare guilty of fraud? See Anonymous and decide for yourself. Your intellect will thank you.