Dirty Girl Exclusive: Video Q&A with Juno Temple and Jeremy Dozier
by Joel D Amos at . Comments
The stars of Dirty Girl, Juno Temple and Jeremy Dozier, sat down for an exclusive video interview with Movie Fanatic to talk about their heartfelt comedy that opens October 7.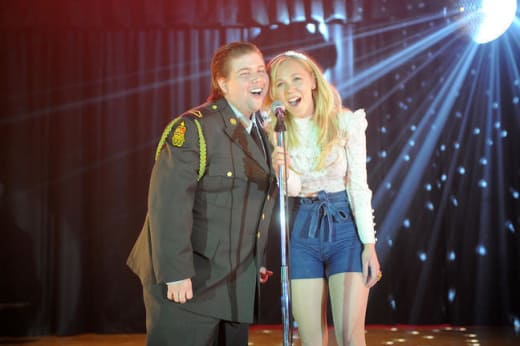 The independent film takes place in Norman, Oklahoma, circa 1987 and comes from the mind of writer-director Abe Sylvia. Sylvia grew up in that community during that time, so it was quite easy for him to capture the spirit of the time and locale (don't miss our exclusive video interview with him October 6).
In
Dirty Girl
, Temple is Danielle, a teenager with more than a little attitude, being raised by her single mother played by
Milla Jovovich
(who in the story is dating uber-Mormon, William H. Macy). She doesn't feel like she fits in and above all else, misses the father she never knew.
Meanwhile, Dozier is Clarke, a closeted gay teenager whose father (Dwight Yoakam) has made his life miserable to the point where he considers running away almost every day. His mother (an astounding Mary Steenburgen) is a little more encouraging than his father, but herself lives in fear of Yoakam's character.
The two become friends almost out of necessity and wind up forging a bond that is equally touching as it is fodder for some terrific film laughs. Be sure to check out the
Dirty Girl trailer
!
Dozier and Juno dish what they most liked about each other and how
Dirty Girl
is an important film that must be seen, as well as what it was like to have such esteemed actors portray their parents.