Writer-director Abe Sylvia may have grown up in Norman, Oklahoma, in the 1980s, yet his film's Dirty Girl locale and time period of his youth are only the launching pad for his coming of age comedy that is equally as funny as it is fierce with drama. Although Sylvia took inspiration from his upbringing -- that much is sure -- the director has stressed the story is a work of fiction. But, when a filmmaker pours that much of his heart and soul into a movie, the results, based solely on effort, have to be pleasing. Dirty Girl is that and more and it begins with his cast.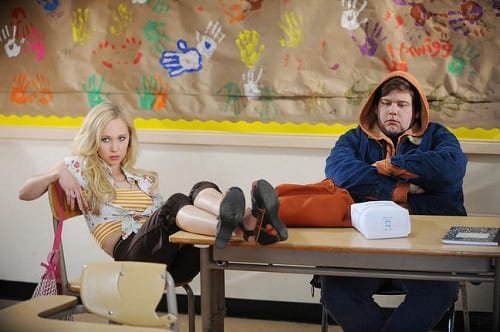 Sylvia wrote and directed the film that follows Danielle (Juno Temple) and Clarke (Jeremy Dozier), two unlikely teenage friends who discover they have more in common than appears on the surface.
Danielle is a promiscuous teen (thus the title!) who has grown up without a father that her mother (a brilliant Milla Jovovich) has told her left them when she was merely a baby. Because of her attitude and lack of caring about school, her principal sends her from her "normal" class to a classroom full of misfits in need of specialized instruction.
It is there that she meets Clarke. They are forced together to work on a school project and her disdain for the overweight and clueless teenage boy is quickly warmed by Clarke's persona which she discovers as Danielle begins to truly know him.
Clarke appears to have the typical Normal Rockwell-like family. His mother and father are still married, yet a personal secret and lack of motivation keeps him under constant ire from his father (Dwight Yoakam). His mother (Mary Steenburgen) is sensitive to his feelings of inadequacies, yet is too fearful of her husband to act to help him.
Danielle becomes aware of Clarke's living in the closet with his sexuality and she is the first person to truly accept him for who he really is. It is there in
Dirty Girl
that the first moments of true charm take over the film. Witnessing Clarke begin to be himself and find his true self is the film's triumph.
Dirty Girl's
cast is stellar. Yoakam and Steenburgen are each in their element and bring so much more to what could have been cardboard cutout characters. But,
Dirty Girl
is the Temple and Dozier show. (Check out our exclusive
Juno Temple and Jeremy Dozier video interview
.) The U.K. born Temple nails the Midwest accent and brings so many levels to her character. It's hard to believe the actress is so young. Dozier, discovered from an audition tape made in his Texas dorm room and sent to Sylvia, establishes himself as an actor to watch. We cannot wait to see what each does next. Temple, for one, is due to be seen in several upcoming blockbusters including
The Dark Knight Rises.
Where Dirty Girl slips a bit is when Clarke and Danielle hit the road and search for her biological father she learns lives in California. Clarke has had the worst fight of his life with his father that borders on child abuse while Danielle is not ready to allow her mom's boyfriend (William H. Macy, sizzling in a supportive role) to take on a father figure persona while she still yearns for her real patriarch.

Dirty Girl then becomes a road trip movie. Sure, the astounding 1980s soundtrack rocks their journey. But, it is here that the film drifts into formula. We've seen the story of two people stuck in a car figuring out life's lessons before and Dirty Girl does not bring too much new to the genre. What does resonate is the final moments of the film's third act.

There's an understanding and acceptance that permeates those final frames that collectively make this comedy, with serious helpings of drama, deliver.