The wait is over as we are finally catching a glimpse of one of our favorite actors, Russell Crowe, tackling one of our favorite franchises, Superman. The first photos of Crowe in costume as Jor-El have arrived and we have to admit: He looks pretty sharp!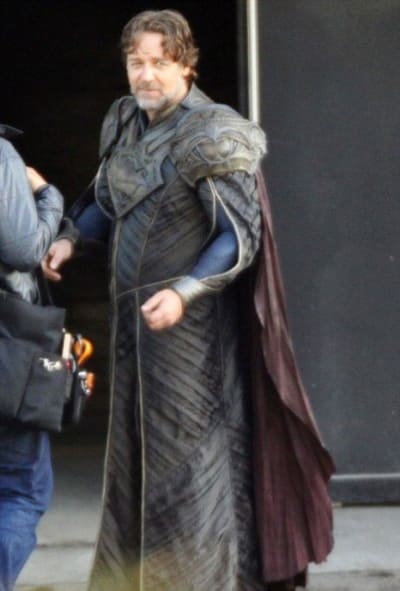 Warner Bros is shooting its
Man of Steel
reboot in Vancouver with Henry Cavill as the title character. Superman is also known by his real name, Kal-El, son of Jor-El. The casting of Crowe as Superman's pa is a stroke of brilliance. If anyone can step into the shoes of the 1970s Jor-El (Marlon Brando), it's the Oscar winner from Australia.
Man of Steel
will be busy for quite some time as the release date for the film isn't until June 14, 2013. Its cast is an impressive one including Cavill and Crowe, but also Amy Adams, Kevin Costner, Diane Lane and Laurence Fishburne. And who could forget our villain -- General Zod -- as played by
Michael Shannon, who told Movie Fanatic about it exclusively
!