The Muppets have put on their Halloween best in an e-card that Movie Fanatic received and we wanted to share it with our readers as they ready for the scariest night of the year. Thanks to Walt Disney Pictures for sending us this great Halloween card that features Miss Piggy as "The Bride of Frog 'n' Swine!"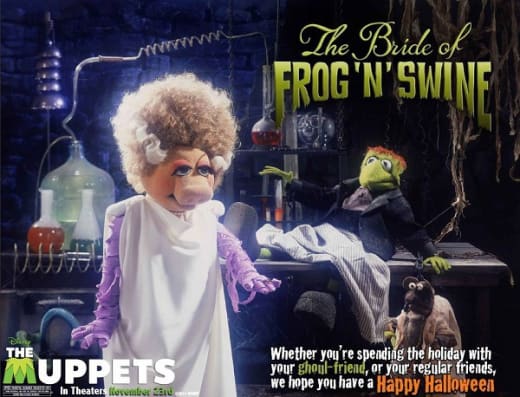 Jason Segel is bringing
The Muppets
back and has been hard at work on the film for years. The film opens November 23 and stars Segel, Chris Cooper, Amy Adams, Rashida Jones, Jack Black, Alan Arkin, Zach Galifianakis, Kathy Griffin, Billy Crystal, Ricky Gervais, Emily Blunt and of course our favorite Muppets: Kermit, Miss Piggy, Fozzie Bear, Animal, newbie Walter and Gonzo.
While you're in
The Muppets
mood, don't miss their parody trailers that are utterly brilliant:
The Pig with the Froggy Tattoo
, their
Hangover spoof trailer
, the hilarious
Being Green trailer
and the
final parody trailer that spoofs Breaking Dawn, Paranormal Activity and Puss in Boots
.