George Clooney chose the play Farragut North as his next venture into the double duty of acting and directing. On screen, we know it as The Ides of March and Clooney sits down with Movie Fanatic at the Toronto Film Festival to chat about how after Good Night and Good Luck, the political thriller caught his fancy.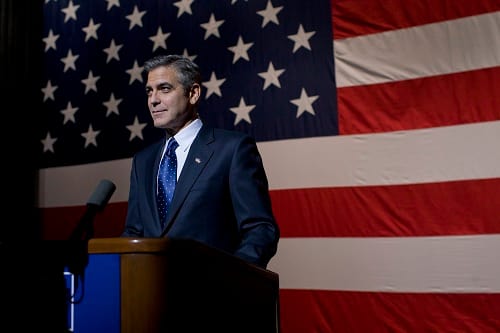 Clooney was the toast of Toronto with
Ides of March
, but also with his poignant turn in
The Descendants
. But on this day at the Lightbox building in downtown Toronto, Clooney is all about
Ides
and his stellar cast that includes
Ryan Gosling
, Paul Giamatti, Marisa Tomei and Philip Seymour Hoffman (most recently seen in
Moneyball
).
Movie Fanatic:
Is there a big difference between George Clooney the actor and George Clooney the director? And is there a secret to being a great director?
George Clooney:
He's pretty much the same guy as George Clooney the actor [
laughs
] -- basically the same height, same hair, pretty much the same. I'm lucky enough to work with a great number of actors who elevate the project. That's the secret to being a great director.
Movie Fanatic:
So how did you secure such a stellar cast?
George Clooney:
I had some pictures of a few of them in compromising positions so I got them to say yes [
laughs
]. Actually some of them together, but that's something we'll let you figure out. They liked the script. They wanted to do the part, so you get out of the way.
Movie Fanatic:
Were there any particular politicians that influenced your character?
George Clooney:
No, there really weren't. Some of the speeches I used were some of the things my dad used to write about in the late '70s in the newspaper. And the idea that he had these issues that he had, seem to pop up every week. People think it's about the John Edwards thing, but this was written before the John Edwards thing even broke.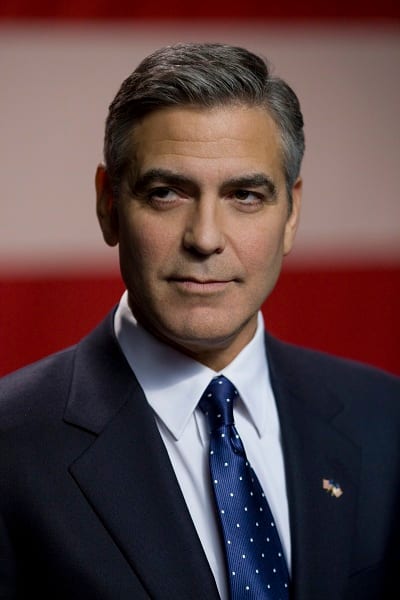 Movie Fanatic: Do your own political views influence what you do on film?

George Clooney: Not particularly. I didn't think of this as really a political film. I thought of this as a film about sort of moral choices, not about political strife. I thought it was a fun moral tale, and once you put it in politics it sort of amps up the problems. I thought that was fun.

Movie Fanatic: The film makes it difficult to become idealistic. What are you trying to say?

George Clooney: [Laughs] In general it takes about two years to get a film made. Mostly we're reflecting the moods of our country and our world. And if this film reflects some of the cynicism, that's probably good -- it's not a bad thing to hold up a mirror to our politicians. But that wasn't what the film was designed to do. There isn't a person you have met that hasn't been met with moral questions. Everyone makes moral choices to better themselves and hurts others along the way and whether the means justifies the ends, and whether that's on Wall Street -- it could have been better in Wall Street -- anywhere, that was our point.

Movie Fanatic: Do you think the system is broken? Can the two parties in the U.S. get along?

George Clooney: I think it's cyclical. I think we're at a period of time where it's probably not our best moment in politics. But if you look at the things Jefferson and Adams did to each other, the 1800 election was pretty rotten and evil. Things change and are cyclical, so I'm hopeful.

Movie Fanatic: How do you think this film speaks to our world today?

George Clooney: People think that films somehow are trying to lead society. Mostly we're reflecting the moods and thoughts that are going on in our country and around the world. It's not a bad thing to hold a mirror up and look at some of the things we're doing.

Movie Fanatic: Did you enjoy filming in Ann Arbor?

George Clooney: We loved it there. First of all, Ann Arbor is an amazing city. We got there on St. Patrick's Day and everyone was drinking beer and everyone was screwed up. I was like, "This town was made for me [laughs]."
Movie Fanatic: And you also filmed in Detroit, talk about a town fighting to stay alive…

George Clooney: When you go to Detroit, you see a town that is resilient. They're just fighting to win again and there's an energy to that. Just watching a city really fighting to get back on its feet and watching the inner strength of a city is tremendous.

Movie Fanatic: There seems to be so many examples in real life of how what happened in The Ides of March could be tomorrow's headlines. Do you think this sort of thing happens all the time and did you insert that into your story?

George Clooney: There's just so many ways to get in trouble with this answer [laughs]. There were enough examples that we just picked little pieces of whatever we wanted.