Filmmaker Andrew Niccol wowed us with Gattaca and his latest, In Time, is also quite the innovative adventure. Justin Timberlake stars as a man from the poor side of town in the not-so-distant future. Money has been replaced by time. Workers get paid in time and when you only are genetically programmed to live to the age of 25, time truly is money. Therefore, the wealthy live elongated lives that the poor aspire to -- but will never achieve literally living day to day.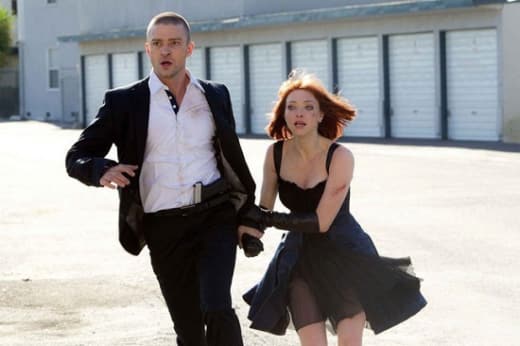 Amanda Seyfried is Sylvia Weis, a rich girl living miles, or "time zones," away from Timberlake's hood. When Timberlake's Will Salas comes across Matt Bomer as Henry Hamilton, Bomer is a man with centuries on his green glowing arm clock in the worst of neighborhoods. He is on a suicide mission. After a century of living and another century on the clock, Hamilton has had enough.
Salas intervenes in a robbery of Hamilton's time and saves the man who does not want to be saved. In a moment of quiet, Hamilton transfers all but a few minutes of his time to Timberlake and
In Time
truly takes off.
Time in the wrong hands becomes the theme of
In Time
. Upsetting the balance of society, whether in our "real" world or on screen in Niccol's fictional future, is a potentially revolutionary concept that must be halted at all costs to those in charge.
Timberlake and Seyfried are solid together. But the actor who steals the film is Cillian Murphy. What he delivers solely in his eyes as a Timekeeper, i.e.
In Time's
police force in pursuit of Salas, is a stroke of acting genius. What also leaps to the forefront in Murphy's performance is how in so many ways, he is not much different than Salas. He certainly is more like his kind than those he is charged with protecting. That conflict burns below the surface of his characterization and provides the story with the eyes and ears of the everyman stuck on the hamster wheel of a world that is
In Time
.
In Time is not without a few faults. Olivia Wilde and Matt Bomer are underused. But, it is hard to fault the film for that, their characters only serve as catalysts for Timberlake as Salas. They just both so nail their performance, it is easy to feel that there should have been more from them in In Time. Also, the audience never gets a sense of the larger scope of the story. Is this simply a city like Los Angeles? What else is occurring in other cities across the globe? In Time is a little too insular.

Yet within the confines of Niccol's world, the film moves at a pace that allows the audience to focus solely on the story at hand and how this alternative world to ours could easily become reality if science could catch up with a filmmaker's imagination.