In Time allowed Justin Timberlake to fulfill his childhood action hero dreams. The film is the latest from Gattaca filmmaker Andrew Niccol and co-stars Amanda Seyfried. Timberlake visits with Movie Fanatic and admits that "I got to live out a lot of boyhood fantasies in this movie shooting guns and getting to learn how to stunt drive."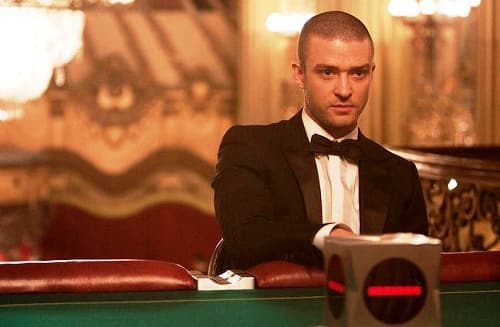 In Time follows Timberlake's character in a world where money has been replaced by time. The poor scramble to live day to day, while the wealthy have centuries to cavort as they wish. The question the film raises is: If you had all the time in the world, what would you do with it (click here for the In Time trailer)?

Timberlake, fresh off his turns in The Social Network and Friends with Benefits, gets us caught up on the platinum album singer's movie modus operandi.

Movie Fanatic: How much fun was it to be the action guy and almost like a James Bond? Especially in the poker scene!

Justin Timberlake: When you're a little kid, you obviously see those types of scenes in movies and you never picture yourself as the guy who loses the poker match so... yeah! That worked out then [laughs]. You read it and you're like, "This is going to be a lot of fun on top of being a really smart, intellectual thriller. We're going to have a lot of fun." The script really read like it plays. It was intense for me when I read the script and I remember for three days after I couldn't stop thinking about the themes but also the fact that it was relentless in its pace. It's a really rich story filled with lots of things.

Movie Fanatic: What would you do if you only had 24 hours to live?

Justin Timberlake: It sounds cliché, but I would spend it with people that I love. If I had 24 hours, I'd probably… I could probably squeeze like a three-hour round in if I played golf by myself. Then that leaves me 21 hours, so I would probably spend the rest of that with the people that I love.

Movie Fanatic: If there's anyone who has "lived," it's you. Is there anything you feel you haven't done yet that you might want to get in that day?

Justin Timberlake: I'd like to Occupy Pasadena. We can work on that [laughs]. I relate that to this film. I saw this movie as a very beautiful story in the midst of a really otherworldly macro-concept. I just saw this movie as there were some really simple themes to this guy and I just saw him as an everyday man who gets pushed too far and decides he's not going to take it anymore. I was really excited to work with the cast and obviously Andrew. I'm a huge fan of his previous outings.

Movie Fanatic: What age you would want to get stuck at and why?

Justin Timberlake: I look back as a lot of my younger years have been documented and I can honestly say that I would not like to revisit them. I just went last night to the Environmental Media Awards and obviously it's recycle, recycle, recycle. And literally, one of the things that popped up into my mind was: I can think of something I probably wouldn't recycle and that's a couple of the outfits that I wore in 1999. So I'm perfectly fine with aging.
Movie Fanatic: Speaking of the Environmental Media Awards, do you think that it is a responsibility of anyone with a platform to make a difference?

Justin Timberlake: I think that with each generation, there's more opportunity, at least the way I see it. I grew up in a generation, I watched the birth of the internet, I feel like I look around at the generation younger than me and it's a very opportunistic mantra. It's a very opportunistic way of thinking. I think we made a film about the raging of social media (Social Network) and what I remember feeling about that was that the common theme about researching all those characters for that film, they all saw themselves in any way that they wanted to. It wasn't just in one way. It's actually quite entrepreneurial the way they saw themselves. I think when you talk about something like the environment, that to me, seems too obvious. Saving the environment seems obvious to me. It seems like something we all should be doing. If I have a platform, if it would inspire one person, then that's all I feel we want to be inspired. To have the opportunity to inspire other people, that's the way that I look at something like that.

Movie Fanatic: Which cause specifically?

Justin Timberlake: Interestingly enough, they're both related to golf, but I do a PGA Tournament for the Shriners Hospital for Children, which is free healthcare for people who are under the age of 18. What I was there for last night at the Environmental Media Awards was a golf course that me and my friend bought and turned into an eco-friendly wildlife sanctuary -- indigenous to itself.

Movie Fanatic: Do you have an environmental superhero costume underneath there?

Justin Timberlake: It has a green cape and everything. The spandex is made out of recyclable material [laughs].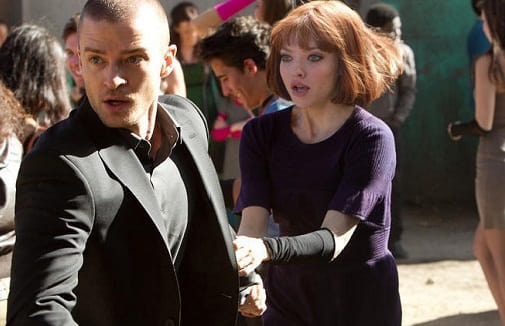 Movie Fanatic: Now with In Time, what specifically compelled you to do this film?

Justin Timberlake: I think one of the things [director] Niccol said to us that was kind of interesting, once they get this genetic aging thing down, all new things would kind of stop being developed. There is no reason to go out and create something new. You have the Holy Grail there, you just want to relax. I thought that was fascinating.

Movie Fanatic: How do you think this world would affect things?

Justin Timberlake: I think it explores the idea of aspiration. So much of the tech generation has to do with aspiring to create that type of thing. If you had all the time in the world, then it would be the death of creativity.