Margin Call is incredible in how it can portray a global crisis in the most claustrophobic of ways. What the characters at a financial company are going through will reverberate throughout the world's markets, yet most of the action on film happens in office space that never yields a feeling of global geography.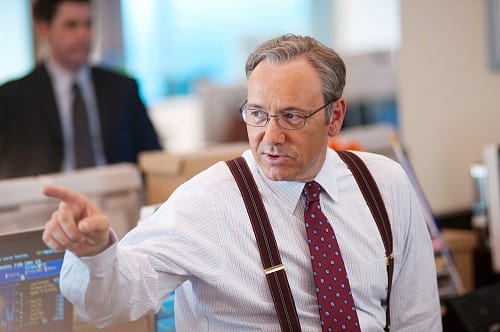 Produced by Zachary Quinto and his Before the Door company, the film fires on all cylinders in capturing a time in American history where the literal bottom almost fell out of our country's financial world.
Margin Call
follows one banking institution as an upstart employee (Quinto) discovers that the esteemed century-old company is on the verge of folding within 24 hours.
Based on a true story,
Margin Call
feels so real that it will produce an emotional response that effortlessly moves from anger to awe at what is being witnessed. It is not clear which bank we are watching fall apart quicker than any in history. But what provides a crystal vision is that this is real. This is exactly how it happened for many Wall Street firms where the shock and awe of reality hit those in charge as would a rioter's brick flying through a window.
Yet in writer-director J.C. Chador's epic film it achieves a perfect pace. The audience does not fully feel the impact of the situation until the story has fully played out and you are on the way home. Upon reflection, a realization is achieved: What is witnessed is so close to reality, complete with its affecting millions of lives narrative, the film actually presents a play by play of how the financial catastrophe of 2008 almost destroyed our entire way of life.
Chador has assembled a cast worthy of the heavy drama he has created on the page, and thus the screen.
Kevin Spacey
is truly the film's lead. He turns in a performance that is among his best, which is saying something for the Oscar winner. There is a humility to his character that gives the audience a window into this world that is about to collapse. Jeremy Irons, a fellow Academy Award recipient, literally flies in to the upheaval and gives the audience the viewpoint of the financial executive who sought to bury the problem, regardless of its consequences.
Quinto sizzles while Gossip Girl's Penn Badgley gives viewers the everyman character who is affected by the madness. Simon Baker and Stanley Tucci provide opposite sides of the spectrum of financial executives trying to stop a flood that has already occurred, despite what those in the water believe they are seeing. Demi Moore is the risk management expert who unfortunately is a little stale in her delivery and cadence.

Margin Call paints a picture of the real financial collapse of 2008 without placing blame. Its finger pointing is simply laid out based on Chador's script and his directorial vision. The film is one of those rare cinematic moments where the audience is left to draw all the conclusions it wants. It is in that capacity, above all its excellence, that Margin Call succeeds in spades.